Message from Dr. Ski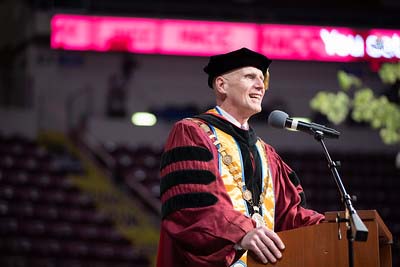 "Discovering Our Strength," the theme of the 2021-22 Annual Report by HACC and the HACC Foundation, captures the essence of our determination to provide experiences that are meaningful and productive for our community, our employees and, above all, our students.
During this time, we embraced the uncertainties and challenges with collaboration, forward-thinking and a passion to provide a diverse, inclusive and belonging community for the students we serve and our colleagues.
We also reflected on the accomplishments of the College's 2019-22 Strategic Plan – One College, Uniting for Success – and began to put the finishing touches on our 2022-25 Strategic Plan - Pathways to Success.
Some highlights of this report include: 
Please read on for more insight into "Discovering Our Strength" in this 2021-22 Annual Report.
Thank you!
John J. "Ski" Sygielski, MBA, Ed.D.
President & CEO
HACC, Central Pennsylvania's Community College
Powerfully YOURS
Consultation, Advocacy, Referrals and Empowerment (CARE) Center Services
Any student currently enrolled at HACC is eligible for CARE Center services
Students can complete the CARE Center Intake Form or a CARE Center coordinator at care@hacc.edu.
The CARE Center provided assistance to 354 students with financial assistance and free local and government resources.
Services have expanded from assisting students facing food insecurity to assisting with housing, mental health, domestic violence, housing, daily necessities, utilities and other life needs.
Coordinators refer students to the Keystone Education Yields Success (KEYS)Program to assist with the application for Supplemental Nutrition Assistance Program (SNAP) benefits.
The CARE Center works with HACC's Bookstores to distribute passes for local public transportation.


 
Students in EMS training programs have the advantage of using an anatomage table, a technically advanced 3D anatomy and visualization and virtual dissection tool.
The unit was installed in the EMS Lab in North Hall at the Senator John H. Shumaker Public Safety Center.
It is used for EMS certification courses - including Emergency Medical Technician (EMT), Advanced EMT and Paramedic - and by all of the EMS certification courses (EMT, Advanced EMT, Paramedic, Pre-Hospital Registered Nurse (PHRN) and continuing education programs
 

 
PNC Initiative Promotes Diversity in First Responder Programs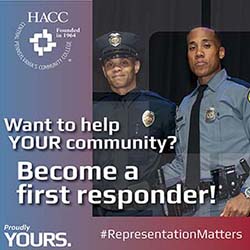 In December 2021, the PNC Foundation and the HACC Foundation announced a new initiative to diversify local police and emergency medical technicians (EMT).
The initiative is funded by a three-year, $112,500 grant from the PNC Foundation that will provide full-ride scholarships for Black students enrolled in HACC's Municipal Police Academy or Emergency Medical Technician (EMT) Program
Black citizens are among the communities underrepresented in law enforcement and emergency medical services. HACC, with the help of this grant, is taking action to change that dynamic.



 
New Academic Programs Launched in Fall 2021

The College was chosen as one of seven colleges to join the 2022 cohort of Achieving the Dream (ATD) Network.
As part of this honor announced in June, we will work with ATD to holistically advance equity, access and student success.

 
College Partnerships
Organization Development
HACC facilitated professional development programs and interventions to support employees working remotely, hybrid and in person at the College, including:

Nugget Series – tips on working and supervising remote workers
Change Management
Excellence in Management
Competency-based Leadership Development Program
Remote Work Toolkit

All employees completed all six compliance training modules.
HACC also facilitated programs on inclusivity and diversity, including:
Benefits
In 2021, HACC entered the final year of a three-year agreement with Capital Blue Cross for health insurance coverage. Due to utilization, a rate increase was applied for this final year and was capped at 13.5%. The College agreed to absorb the rate increase in full, resulting in no cost increase for employees since the 2019 calendar year.

 
Health and Safety
The dedicated employees continued to work tirelessly to keep the five campuses clean and safe when students and employees returned.
They also maintained the five campuses, buildings, systems and over 300 acres of green space, gardens, trees and parking lots.
The College worked with Lebanon County to meet demand for phlebotomy technicians.
During summer 2021, HACC hosted English as a Second Language (ESL) courses at McCaskey High School.
HACC's Lebanon Campus continues to occupy the third floor and the lab on the second floor of the Lebanon Campus building for classrooms and offices after HACC finalized the sale of the building to the City of Lebanon.
A Community Impact Advisory Coalition was established to encourage conversation between college and community stakeholders.
Our Students: By the Numbers
AGES 18-21: 10,334
AGES 22+: 13,275
AVERAGE AGE OF STUDENT: 24.9
HIGH SCHOOL DUAL ENROLLED:3,646
STUDENT-TO-FACULTY RATIO:16 to 1
NUMBER OF ACADEMIC PROGRAMS:103
NUMBER OF DEGREES, CERTIFICATES OR DIPLOMAS AWARDED: 2,089
TOTAL NUMBER OF CREDIT AND NONCREDIT STUDENTS ENROLLED FOR THE ENTIRE 2021-22 ACADEMIC YEAR: 29,201
FULL-TIME CREDIT STUDENTS (2021-22): 4,319
PART-TIME CREDIT STUDENTS (2021-22): 15,895
NUMBER OF INTERNATIONAL STUDENTS: 242
NUMBER OF COUNTRIES REPRESENTED: 51
HACC, Central Pennsylvania's Community College, in full accordance with the law does not discriminate in employment, student admissions and student services on the basis of race, color, religion, age, political affiliation or belief, sex, national origin, ancestry, disability, place of birth, General Education Development Certification (GED), marital status, sexual orientation, gender identity or expression, veteran status or any other legally protected classification. HACC recognizes its responsibility to promote the principles of equal opportunity for employment, student admissions and student services taking active steps to recruit minorities and women. Inquiries should be directed to the chief inclusion and diversity officer at cido@hacc.edu.