Welcome!
Throughout the past year, our world has, once again, faced many unprecedented challenges. Our lives have been forever changed as a result of the global and racial pandemics that will have a continued impact in our lives for many years to come. Despite such challenges, HACC, Central Pennsylvania's Community College, continues to change lives, destinies and family trees throughout Central Pennsylvania and beyond. Our mission throughout these pandemics has not wavered.
The theme for HACC's 2020-21 annual report is Overcoming Barriers #HACCtogether. Some of highlights include: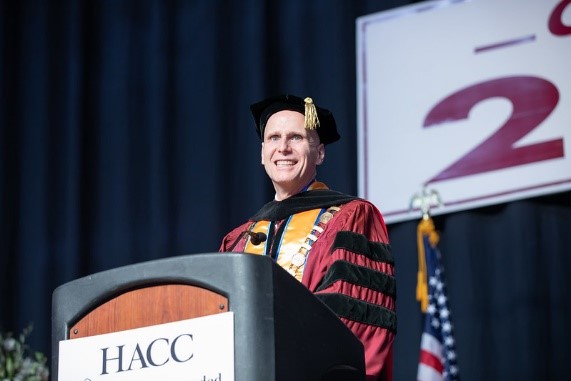 Please read on to learn more about the exciting ways HACC continued to support our communities, employees and, most importantly, students during these times.
Thank you!
John J. "Ski" Sygielski, MBA, Ed.D.
President & CEO
HACC, Central Pennsylvania's Community College
Resiliently YOURS.
Financial Supports:
Distributed more than:

$60 million in state and federal aid
$4 million in CARES funds to students

Provided the following much-needed assistance to students, thanks to generous donors who contributed more than $1.2 million to the HACC Foundation: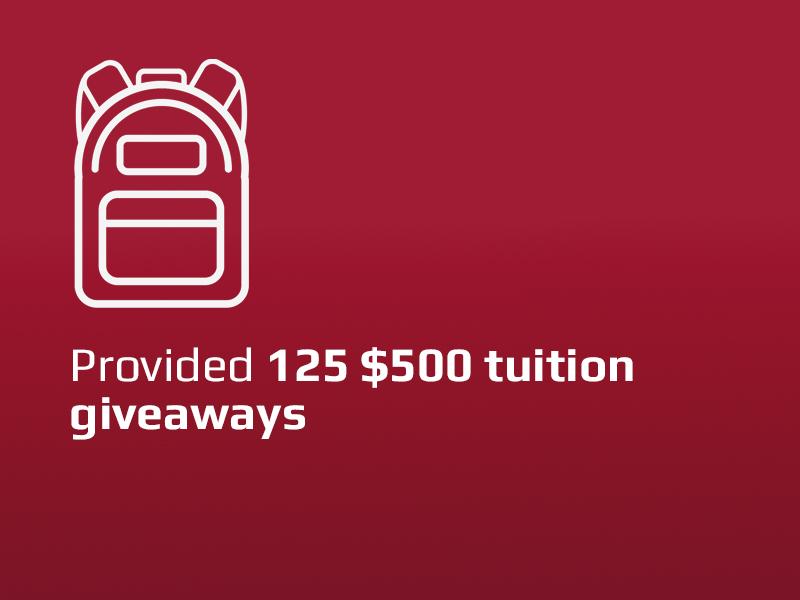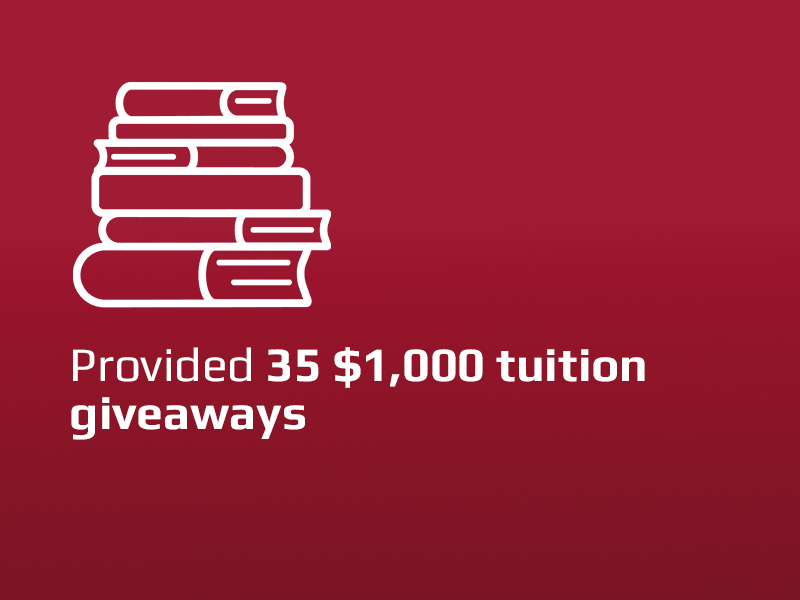 HACC's Consultation, Advocacy, Referrals and Empowerment (CARE) Center:
Provided more than 1,400 bags of groceries to students through the Groceries on the Go program, which was developed to help address food insecurities faced by HACC students during the global coronavirus pandemic.
Distributed 153 grocery gift cards to students.
Of all HACC students served by HACC's CARE Center:
 

Were retained for
the fall 2020 semester

 

Enrolled for the
spring 2021 semester
Virtual Student Supports:
Met students' advising needs through answering 43,548 phone calls and serving 14,882 individual students in 36,654 advising sessions.
Offered free printing and shipping for students to support their remote course work and processed 2,240 print requests for a total of 87,530 pages.
Supported 1,600 students through online tutoring.
Offered virtual research appointments and answered 2,858 library research questions.
Provided remote accommodations and emotional supportive needs for 834 students.
Revamped online resources for students to improve access to mental health resources and easier scheduling with Mazzitti & Sullivan, HACC's partner agency for mental health counseling and resources.
Hosted Student Access Services (SAS) information night to provide information to students who may need accommodations.
Helped more than 450 students, who otherwise may not have been able to complete their students, attend classes remotely through HACC's Technology Loan Program. In total, over 700 student technology requests were fulfilled.
Provided students with loaner computers, mobile internet service, web cams, tablets, graphing calculators and access to e-book subscriptions and research databases.
Created lab kits for students to complete a variety of hands-on courses from home such as courses in Architecture, Computer Networking Technology and Mechatronics.
Added broadcasting equipment to the Rose Lehrman Art Gallery to allow theatre students to continue their studies and conduct live performances.
Worked closely with healthcare industry accreditors to alter the time and place of credentialing exams to help students succeed despite the impact of the pandemic.
Provided virtual lab tours and open sessions with high school students interested in Health Sciences programs.
Offered more than 124 remote programs to engage and educate employees and students during the spring 2021 semester.
Formed the first Sisters of Color affinity group with over 35 women in regular attendance. The group gives female students of color connections and resources. It also fosters a sense of belonging at the College.
Helped 624 students obtain tuition assistance through Chapter 33 Post 9/11 GI Bill benefits in 2020.
Assisted 931 students to graduate in the fall 2020 semester and 962 students to graduate in the spring 2021 semester.
CARES Act Funding:
Increased simulation using simulation manikins in Advanced Emergency Medical Technician (AEMT), Emergency Medical Technician (EMT), Paramedic programs and Pre-Hospital Registered Nurse (PHRN).
Provided personal protective equipment (PPE).
Enhanced law enforcement training through virtual reality resources.
Connected students by distributing nearly 40 laptops for General Educational Development (GED) students without access to technology.
Provided supplemental language training in careers of student interest (such as accounting, aviation and geology) through 36 vocation-specific, English as a Second Language (ESL) software licenses.
Mental Health:
Entered into a new agreement with Mazzitti & Sullivan for employee assistance program (EAP) services, including expanded counseling benefits for employees and their family members. 
Expanded support for remote work during the pandemic including developing programs that address employees' needs, requests and expectations, sharing ideas on working remotely, new virtual learning opportunities and monthly toolkits for self-exploration.
Developed Trainings:
Developed new professional development programs, interventions and events to support employees working remotely, including:

Change Management
Competency-based Leadership Development Academy (CBLDA) 
Excellence in Management
Let's Talk: A Conversation about Race
New Employee/Faculty Orientation
Remote Work Toolkits
Title IX – Compliance Training DiSC Profile Analysis

Developed 'Guidance on Supporting Transgender Students and Employees at HACC' to refine and clarify HACC processes and procedures to acknowledge students' and employees' preferred names and genders.
Coronavirus Efforts:
Trained 43 contact tracers and held three contact tracer job fairs.
Volunteered to administer COVID-19 vaccinations at local clinics.
Supported the Dauphin County and UMPC vaccination clinic at HACC's Harrisburg Campus by assisting 27,310 members at the site.
Community Partnerships:
Partnered with Hershey Entertainment & Resorts to support students in gaining direct hands-on baking and culinary experience to fulfill program requirements.
Created the Health Sciences Advance Program with York CTC to create opportunities for shadowing and hands-on activities for future HACC students.
Served community members by providing a free day to receive dental sealants.
Our Students: By the Numbers
Percentage of Minority Students *Enrolled in Credit Programs

Percentage of students who receive financial aid (not including COVID related grants)
AGES 18-21: 8,720
AGES 22+: 10,891
AVERAGE AGE OF STUDENT: 24.7
HIGH SCHOOL DUAL ENROLLED:3,718
STUDENT-TO-FACULTY RATIO:15 to 1
NUMBER OF ACADEMIC PROGRAMS:104
NUMBER OF DEGREES, CERTIFICATES OR DIPLOMAS AWARDED: 2,164
TOTAL NUMBER OF CREDIT AND NONCREDIT STUDENTS ENROLLED FOR THE ENTIRE 2020-21 ACADEMIC YEAR: 30,494
FULL-TIME CREDIT STUDENTS (2020-21): 3,781
PART-TIME CREDIT STUDENTS (2020-21): 18,598
NUMBER OF INTERNATIONAL STUDENTS: 207
NUMBER OF COUNTRIES REPRESENTED: 52
HACC, Central Pennsylvania's Community College, in full accordance with the law does not discriminate in employment, student admissions and student services on the basis of race, color, religion, age, political affiliation or belief, sex, national origin, ancestry, disability, place of birth, General Education Development Certification (GED), marital status, sexual orientation, gender identity or expression, veteran status or any other legally protected classification. HACC recognizes its responsibility to promote the principles of equal opportunity for employment, student admissions and student services taking active steps to recruit minorities and women. Inquiries should be directed to the chief inclusion and diversity officer at cido@hacc.edu.