We know how hard our #HACCgraduates work to reach their dreams and obtain a HACC degree, certificate or diploma. We were #HACCproud to celebrate HACC's class of fall 2021 on Dec. 14, 2021, at the Giant Center in Hershey, Pa.

Please visit our Flickr site to view images of our fall 2021 graduating students.

Please continue to visit this webpage for additional information and note that this information is tentative and subject to change.

Updated: Dec. 15, 2021
2 p.m. Ceremony Speakers
Charles Comer, M.A.
Faculty Representative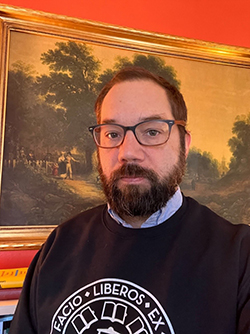 Charles Comer, M.A., is currently an assistant professor of Philosophy at HACC, Central Pennsylvania's Community College, where he has been since 2008. Before his time at HACC, he taught at Carroll Community College in Westminster, Maryland and Towson University in Towson, Maryland in the areas of art history, humanities and philosophy. He enjoys being a dad, teaching, skateboarding and surfing, and great books and art. He finds harmony and meaning in all of these things.


Robert Reed
Student Representative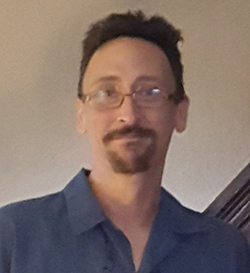 Robert Reed graduated from Cumberland Valley High School in 1998 and went straight into the workforce. After a 20-year break from school, he began attending HACC in the fall of 2019.

He has made the dean's list every semester since restarting his educational journey. He will receive an Associate in Applied Science in paralegal studies. He hopes to work with and for the Innocence Project once he graduates.
6 p.m. Ceremony Speakers
Harmony Kelly, MSN, RN
Faculty Representative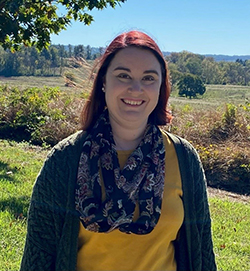 Harmony Kelly is a member of the nursing faculty at HACC, Central Pennsylvania's Community College. A native of Wisconsin, she moved to Baltimore, Maryland in 2012 to attend Johns Hopkins Accelerated Nursing Program and obtain a second degree. She previously obtained a Bachelor's of Science in History focusing on early America though the Civil War.

During her senior year of college at the University of Wisconsin Oshkosh, she found the job market for history majors to be limited, and it was recommended that she pursue her other love, "nursing." She earned a Bachelor's of Science in Nursing from Johns Hopkins in 2014 and a Master's in Nursing in 2018 from Western Governors University (WGU).

She started teaching as an adjunct at HACC in the summer of 2018 where she taught nursing clinicals for HACC's Gettysburg and York campuses. She joined the full-time nursing faculty family in August 2021. Her bedside nursing experience includes oncology (bone marrow transplant), medical surgical, neurology and cardiac.

She is a wife and step mom to five children, four who no longer live at home. She enjoys volunteering at her church, where she serves on the medical team, as well as helping people with their skin though her skin care business. Her future plans include to earn a Ph.D. in nursing.


Drake Naylor
Student Representative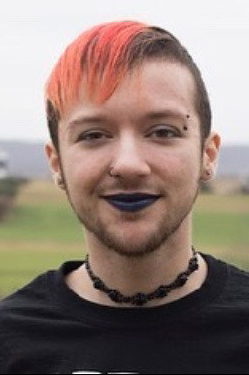 Drake Naylor is a social sciences student at HACC. He participates in activism work for the rights of LGBTQ and people with disabilities. He plans to continue his education in social work and pursue a career in social work and therapy.
Alumna Speaker: Hagir Elsheikh
Please note that Hagir Elsheikh will virtually address HACC's fall class of 2021.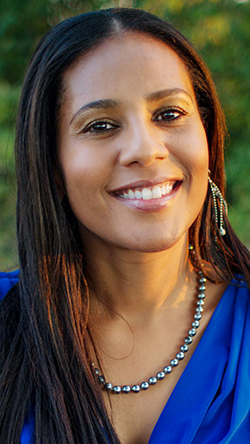 Hagir obtained her associate degree in electrical engineering from Sudan University of Science and Technology before beginning her HACC journey. In 2001, she enrolled in HACC's Nursing Program. In addition, the closeness to home and flexibility of evening and weekend classes allowed her to work while completing her degree.

After transitioning to Grand Canyon University to obtain her bachelor's degree, she returned to HACC as an adjunct faculty member. This allowed her to give back through teaching nursing learners at clinical sites. Building on her educational foundation and professional experience, Hagir started HSE Staffing Agency LLC in 2013. HSE Staffing is one of the fastest growing and leading staffing agencies in Central Pennsylvania, earning Harrisburg Magazine's 2017 and 2018 Simply the Best distinction for staffing services.

Hagir gives back to her community through her activism with YWCA of Greater Harrisburg and the Capital Area Coalition on Homelessness. She also founded Tomorrow's Smiles Inc., a nonprofit organization that combats domestic violence through increasing awareness, education and motivational speech. She talks about these and other important issues on her YouTube show, The Hagir Show, and as co-host for the T.S.O. (Teens Speak Out) radio talk show. She also serves as a domestic violence counselor in Cumberland County; volunteers with Meals on Wheels; and teaches CPR, First Aid and AED with the American Red Cross.

In 2017, Hagir's work earned her Central Penn Parent's Health Administration Hero Award, and she was named among Central Penn Business Journal's Women of Influence. In addition, Hagir's fascinating journey from a small village in Sudan to her current successes was the subject of an article in The Burg Magazine.

In 2019, Hagir was honored with HACC's highest alumni distinction - the HACC Distinguished Alumni Award. This award salutes the achievements of outstanding alumni who exemplify the HACC "spirit" with their personal lives, professional achievements and community service and serve as an inspiration to other alumni and current learners. Hagir was also inducted into the Grand Canyon University Hall of Fame.
Dr. Ski congratulates HACC's class of fall 2021!
How can I share my excitement?
No matter where you're celebrating, share YOUR Commencement excitement with us:
Share YOUR Commencement images on social media
Tell us how you're celebrating this remarkable achievement
Give shout outs to your favorite HACC employees
Tag HACC in your posts
Frequently Asked Questions (FAQs)
Can I invite as many guests as I want to the ceremony?
Eligible graduates may invite as many guests as they wish to the ceremony.

Please note:

Tickets are not required for the event. However, when eligible graduates complete the Commencement participation form, they will be required to provide an estimated headcount for the use of the Giant Center.
Guests will be seated in the general seating area to the left after entering the main entrance.
Guests and graduates will be required to leave Giant Center promptly after the ceremony concludes.
 

What time can I enter the Giant Center?
For both guests and graduates…

First ceremony doors open at 12:30 p.m.
Second ceremony doors open at 4:30 p.m.
 

What if I'm not comfortable attending an in-person ceremony. Will I still be celebrated?
If you are not comfortable attending the event in person, the ceremony will be live streamed on YouTube.
 

If I graduated in spring or fall 2020, or spring 2021, can I participate in this ceremony?
The fall 2021 Commencement ceremony is for HACC's class of fall 2021 only.
 

What are the masking and social distancing requirements for the ceremony?
All graduating students, HACC staff and volunteers attending the ceremony are REQUIRED to wear a face mask.

ADA Accommodations
If you or your guests need ADA accommodations, please contact the Office of Student Affairs and Enrollment Management at 717-736-4145 by Dec. 9, 2021.
 

Will there be food and snacks sold at the concession stands during the fall 2021 Commencement ceremonies?
No. There will be no food or snacks sold. However, there will be bottles of water available for sale.
 

How do I purchase regalia?
You can purchase regalia online at HACC's bookstore.
 

What happens after I graduate?
You join a network of over 100,000 alumni across the globe as part of the HACC Alumni Association! There is no charge to join, and your membership begins upon graduation.

You may purchase a $25 Alumni College Card annual membership to use HACC's services and facilities. Please learn more about YOUR HACC Alumni Association online.
Did HACC develop printable and sharable yard and social media signs?
We want our graduating students to show they are #HACCproud. To do this, we've created yard and social media signs for you to display for all to see.
Yard Signs:
The yard signs are 18x27 inches. You can even fill in your or your graduate's name where "Name" is listed on the signs!
Please:
Select the sign that you would like to print from the thumbnail options below
Download the PDF
Add your graduate's name (if you chose one of the signs with the fillable "Name" area)
Save the sign to your computer
Print the signs through a local print or online vendor
Display the signs proudly in yards
Share the photos on social media with the hashtag #HACCproud
Social Media Images:
Please download the image of your choice, save it to your computer and proudly share it on social media. Please use the hashtag #HACCproud, and the College may share your post on our social media accounts.