View HACC's spring 2022 Commencement ceremony!
HACC, Central Pennsylvania's Community College, is #HACCproud of our graduating students, and we look forward to celebrating their remarkable achievements at 6 p.m. on May 10, 2022, at the Giant Center in Hershey, Pa.

Please visit our Flickr site to view images of some of our spring and summer 2022 graduating students.
Please continue to visit this webpage for additional information and note that this information is tentative and subject to change.

Updated: May 9, 2022
Congratulatory Messages to Graduates from Family and Friends
How can I share my Commencement excitement?
No matter where you're celebrating, share YOUR Commencement excitement with us on social media!
Share your Commencement images 
Tell us how you're celebrating this remarkable achievement
Give shout outs to your favorite HACC employees
Tag HACC in your posts
Frequently Asked Questions (FAQs)
I am attending the ceremony in person. What are the masking and social distancing requirements for the ceremony?
Please note the following masking and social distancing requirements for the spring 2022 ceremony:

All HACC graduating students and staff will be required wear a mask/facial covering indoors at all times.
Graduating students and ceremony participants must practice three feet social distancing when seated.
This information is tentative and subject to change.
 

Can I invite as many guests as I want to the ceremony?
Graduating students may invite as many guests as they wish to the ceremony.

Please note:

Tickets are not required for the event.
The main entrance doors will open at 4:30 p.m.
Guests will be seated in the general seating area to the left after entering the main entrance.
 




What if I'm not comfortable attending an in-person ceremony. Will I still be celebrated?
If you are uncomfortable attending in-person, the ceremony will be streamed live on YouTube.
 
Please continue to check our website for additional information.




If I graduated in fall 2021, can I participate in this ceremony?
The spring 2022 Commencement ceremony is for HACC's classes of spring and summer 2022 only.




I am participating in the in-person ceremony. How can I request ADA accommodations?
If you or your guests need ADA accommodations, please contact the Office of Student Affairs and Enrollment Management at 717-736-4145 by May 4, 2022.




Will there be food and snacks sold at the concession stands during the ceremony?
No. There will be no food or snacks sold. However, there will be bottles of water available for sale.  Giant Center is cashless. All major credit cards are accepted.




How do I purchase regalia?
You can purchase regalia online at HACC's bookstore.




What happens after I graduate?
You join a network of over 100,000 alumni across the globe as part of the HACC Alumni Association! There is no charge to join, and your membership begins upon graduation.

You may purchase a $25 Alumni College Card annual membership to use HACC's services and facilities. Please learn more about YOUR HACC Alumni Association online.
Faculty Speaker, Shaun Murphy, M.Ed.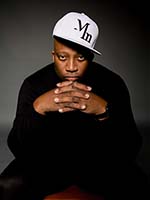 Shaun Murphy, M.Ed.
Faculty Representative

Shaun Murphy is an army veteran, veteran advocate, serial entrepreneur and motivational speaker; he is "Mister Motivation."
Murphy spent the last 15 years being a change agent, impacting and empowering the lives within the veteran and education community and living an altruistic life!
Murphy is a certified veteran recruiter and was recognized by Michelle Obama for his work launching and leading "Teach For America's" veteran recruitment initiative.
He has been mentioned in USA Today, CBS News, New York Post and Revelo Magazine.
Murphy currently works at UPMC - Lititz in a role that speaks to community engagement, as community programs educator. He also is an adjunct instructor at HACC's Lancaster Campus where he teaches a college success course.
He has always had an entrepreneurial spirit. Under the umbrella of "The Murphy Group," he runs, owns, operates and leads:
TMG Properties: A real estate investment group that acquires properties below market value, renovates them into high-quality, comfortable rental housing units and holds for steady cash flow.
My World Entertainment: A travel concierge and events service that hosts elevated events and exotic excursions.
Mister Motivation Productions: Murphy educates, empowers and equips individuals with the tools they need to be successful in life. He recently released a motivational song, "W.H.Y.," by Mister Motivation that is available on all streaming platforms.
TSX Transport: A transport company that serves businesses in the Eastern United States with freight hauling and logistics management services.
Murphy currently serves as director on non-profit boards, including:
Lancaster County Workforce Development Board
Lancaster Law Foundation
Touchstone Foundation
He lives and works out of his home in Lititz, Pennsylvania, and spends winters snowboarding and summers in Barbados with his two amazing children and dope wife.
Spring 2022 Representative, Naja Channell Grierson-Stephenson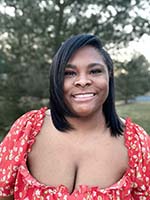 Naja Channell Grierson-Stephenson
Student Representative
Naja Channell Grierson-Stephenson grew up in West Philadelphia with her Jamaican parents and siblings. As a child, she had a great love for art, photography, fashion and shoes. When she graduated from Overbook High school, she pursued a degree in fashion design but shortly after became a parent. In April 2010, she became a military spouse to her high school friend and started her journey as a Marines wife. As she met different military families, especially Purple Heart families, she realized that she wanted to make a difference by counseling or providing therapy in the military community. In 2018, she started toward her educational goal at HACC, Central Pennsylvania's Community College, to gain an Associate in Arts in psychology.
During her first year at HACC, she became HACC's African American Student Association president. Prior to the pandemic, she volunteered at all Student Program Board (SPB) and Virtual Learning Student Advisory Council on- and off-campus events with her children.
On July 26, 2019, her best friend, La'Shana Gilmore, died unexpectedly during childbirth. Two days later, Grierson-Stephenson had major knee surgery that left her partially paralyzed for six months. After getting discharged from the hospital, she had intense physical therapy for one year at her home and transitioned to aquatic and land therapy for an additional year. She didn't allow her depression from losing her best friend or knee surgery to cease her educational goals at HACC.
She plans to continue her education at a university, followed by attending medical school and earning an advanced degree in psychology.
Her favorite quote that her father told her as a teenager is, "If you let every rub bother you, how will you get polished!"
Alumni Speaker, Dante Swinton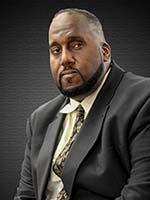 Dante Swinton
Alumnus Speaker
Dante Swinton is a people leader at Comcast/NBC Universal. He is a proud HACC alumnus from the Class of 2002 and serves as the chair of the HACC Foundation Alumni Committee.
Student Singer for "America The Beautiful," Reilly Shaver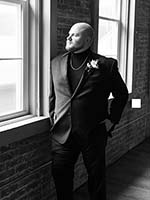 Reilly Shaver is a Business Studies graduating student, who is ready to make a noise in the coffee industry. He has a passion to create a safe space for local creatives who can develop their craft and collaborate with each other with the end goal to build a community of unstoppable dreamers. All while having coffee being the driving force of creativity and innovation.
Dr. Ski congratulates HACC's classes of spring and summer 2022 !
Did HACC develop printable and sharable yard and social media signs?
We want our graduating students to show they are #HACCproud. To do this, we've created yard and social media signs for you to display for all to see.
Yard Signs:
The yard signs are 18x27 inches. You can even fill in your or your graduating student's name where "Name" is listed on the signs!
Please:
Select the sign that you would like to print from the thumbnail options below
Download the PDF
Add your graduating student's name (if you chose one of the signs with the fillable "Name" area)
Save the sign to your computer
Print the signs through a local print or online vendor
Display the signs proudly in yards
Share the photos on social media with the hashtag #HACCproud
Social Media Images:
Please download the image of your choice, save it to your computer and proudly share it on social media. Please use the hashtag #HACCproud, and the College may share your post on our social media accounts.