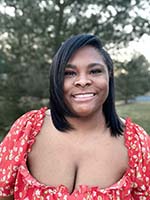 Naja Channell Grierson-Stephenson
Student Representative
Naja Channell Grierson-Stephenson grew up in West Philadelphia with her Jamaican parents and siblings. As a child, she had a great love for art, photography, fashion and shoes. When she graduated from Overbook High school, she pursued a degree in fashion design but shortly after became a parent. In April 2010, she became a military spouse to her high school friend and started her journey as a Marines wife. As she met different military families, especially Purple Heart families, she realized that she wanted to make a difference by counseling or providing therapy in the military community. In 2018, she started toward her educational goal at HACC, Central Pennsylvania's Community College, to gain an Associate in Arts in psychology.
During her first year at HACC, she became HACC's African American Student Association president. Prior to the pandemic, she volunteered at all Student Program Board (SPB) and Virtual Learning Student Advisory Council on- and off-campus events with her children.
On July 26, 2019, her best friend, La'Shana Gilmore, died unexpectedly during childbirth. Two days later, Grierson-Stephenson had major knee surgery that left her partially paralyzed for six months. After getting discharged from the hospital, she had intense physical therapy for one year at her home and transitioned to aquatic and land therapy for an additional year. She didn't allow her depression from losing her best friend or knee surgery to cease her educational goals at HACC.
She plans to continue her education at a university, followed by attending medical school and earning an advanced degree in psychology.
Her favorite quote that her father told her as a teenager is, "If you let every rub bother you, how will you get polished!"