Spring 2021 Virtual Commencement Ceremony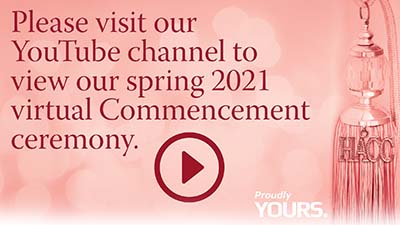 We're #HACCproud to celebrate the remarkable achievements of our spring and summer 2021 graduating students.
While we couldn't come together in person to celebrate their remarkable achievements, we were proud to virtually celebrate on May 13.
The best part is… you can still view the ceremony on our HACC's YouTube channel. 
Please visit our Flickr site to view images of our spring and summer 2021 #HACCgraduates.
Faculty Speaker: Dr. Anju Singh, MBBS, M.S., Ph.D., M.H.A.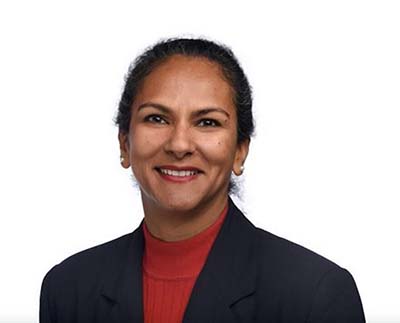 Dr. Anju Singh was born and raised in India where she was trained as a medical doctor, and an eye surgeon, an ophthalmologist. Her arranged marriage in India took her away from her home and family, first to Canada where she pursued a career in neuro-ophthalmology; then to the United States where most of her education wasn't recognized. Soon after coming to the United States, Dr. Singh was a victim of domestic violence. She found herself a single mother of a three year old son and was not allowed to relocate or gain employment. She put herself through graduate school and earned a Ph.D. in molecular medicine, followed by a master's degree in health administration. Dr. Singh is the owner of a small business in Hummelstown and her experiences inspired her to start a nonprofit, the Unity in Diversity Foundation. Dr. Singh has been an adjunct faculty member at HACC since the spring of 2017. She is also running for prothonotary in the upcoming Dauphin County elections.

 
Spring 2021 Student Representative: Randale Scott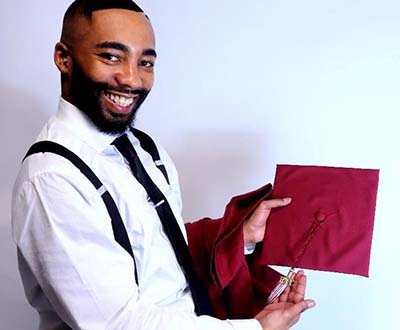 Randale Scott is graduating with an Associate in Fine Arts. Randale's love for theatre began at a very early age, and he knew as a child that theatre acting was something he always wanted to do. His first theatre experience was seeing "The Nutcracker" performed at his middle school in Reading, Pennsylvania. Television shows like "The Power Rangers," "Family Matters" and "Saved by The Bell," helped Randale escape the obstacles he faced in life. Acting became a way for him to express himself. Since starting at HACC, Randale has gained a lot of hands-on experience, including stage manager for "New Works Festival (Closed Loop and Turing Test)," as well as the soundboard operator for "Spring Awakening" and the assistant stage manager for "The Giver." Randale plans on continuing his education and will begin auditioning for roles in major theatre productions this summer. His favorite quote is "It always seems impossible, until it's done," by Nelson Mandela.
Alumni Speakers
Benjamin M. Byler
Marketing Specialist
HACC Class of 2018

J.T. Fredericks
Financial Advisor
HACC Class of 2018

Dr. Karen S. Morris-Priester
Anesthesiologist
HACC Class of 1996

Donald Sterling Pollard Jr.
Owner, founder and creative director at DONN STERLING Group
HACC Class of 1996

 
Dr. Ski congratulates HACC's spring and summer 2021 graduating students!
How can I share my excitement?
No matter where you're celebrating on May 13, share YOUR excitement with us:
Share YOUR Commencement images on social media
Tell us how you're celebrating this remarkable achievement
Give shout outs to your favorite HACC employees
Tag HACC in your posts

Did HACC develop printable and sharable yard and social media signs?
We want our HACC graduates to show they are # HACCproud wherever they may be celebrating this achievement. To do this, we've created yard and social media signs for you to display for all to see.
 
Yard Signs:
The yard signs are 18x27 inches. You can even fill in your or your graduate's name where "Name" is listed on the signs!
Please:
Select the sign that you would like to print from the thumbnail options below
Download the PDF
 Add your graduate's name (if you chose one of the signs with the fillable "Name" area)
Save the sign to your computer
Print the signs through a local print or online vendor
Display the signs proudly in yards
Share the photos on social media with the hashtag #HACCproud
 
Social Media Images:
Please download the image of your choice, save it to your computer and proudly share it on social media. Please use the hashtag #HACCproud, and the College may share your post on our social media accounts.

 
Frequently Asked Questions (FAQs)
I am graduating in the spring or summer semesters of 2021, how can I ensure I will be recognized in the ceremony?
Graduates were provided a link to an online form via email. Students were requested to complete the form by April 1. If students submitted the form successfully, they received a confirmation email. If you have any questions or want to confirm, please contact Commencement@hacc.edu.
Students who did not complete the form by April 1, 2021, will not be recognized.

How do I purchase regalia?
You can purchase regalia online at HACC's bookstore.
Can I invite guests?
#HACCyeah! The ceremony link will be available on our website. Students can also find the link on myHACC.
Where can I purchase a cap and gown?
Graduates do not need to purchase a cap and gown to participate in the spring 2021 virtual Commencement ceremony. However, interested students can purchase a cap and gown online from HACC's bookstore.
What happens after I graduate?
You join a network of over 95,000 alumni across the globe as part of the HACC Alumni Association! There is no charge to join, and your membership begins upon graduation. As a welcome gift, there will be a coupon on your seat at Commencement to redeem one free 'HACC Alumni' t-shirt. After the ceremony, please visit the HACC Alumni Association table in the lobby of the Giant Center to redeem your free t-shirt! Alumni are always welcome at HACC's campuses, and you may purchase a $25 Alumni College Card annual membership to use HACC's services and facilities. Please learn more about YOUR HACC Alumni Association online.