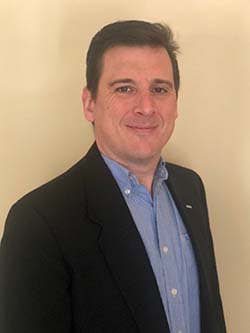 Dr. Patrick McMunn's hometown is Williamsport, Pa., where he graduated from Williamsport Area High School and earned the John Phillip Sousa Scholarship Award. After graduation, he enlisted into the U.S. Air Force, where he served as a satellite systems maintenance technician and a cryptologic linguist. Throughout his nearly 20-year career, he earned his way from airman basic to master sergeant understanding the importance of college education and mental health. Wherever he was stationed throughout the country, he volunteered at various mental health crisis centers and victim advocacy services. Concurrent with his military service, McMunn earned a Bachelor of Science degree from Wayland Baptist University in 2004, double majoring in computer systems technology and Russian area studies. McMunn was awarded two Joint Service Commendation Medals for exceptional achievements and received the Bronze Medal for linguistics, as he was internationally recognized as a top-performing expert in his field.
It wasn't until his undergraduate senior year, after taking an elective psychology course, that he discovered his true calling. Soon after graduation, he began focusing on psychology at the University of Alaska Anchorage. He earned a Master of Science in 2009, and then a Doctorate in philosophy in 2019, both in psychology from Walden University, where he was inducted into Psi Chi and Golden Key International Honor Societies.
After his career in the Air Force, McMunn committed himself to helping others as a mental health therapist and substance addiction counselor. He continues to value mentoring through his work as an online instructor of psychology at HACC, Central Pennsylvania's Community College, Lackawanna College and Upper Iowa University. McMunn currently lives with his wife and teenage sons in East Stroudsburg, Pa., where he serves as a full-time instructor in psychology at East Stroudsburg University and is an active member in Sigma Xi, which mentors students in science, technology, engineering and mathematics (STEM)-related research. Additionally, he serves as a judge advocate, an officer position, at the George N. Kemp American Legion, Post 346 in East Stroudsburg, further evidence of his proud commitment to service, locally and nationally.
As a valued member of his local community, a proud military veteran and a respected educator, McMunn hopes to continue making strides in the field of psychology, mental health and education through continued research, service and mentorship.