Fall Commencement
We're proud of our spring and summer graduates, and those eligible to graduate in the fall 2020 semester. While we couldn't come together in person to celebrate their remarkable achievements, we were #HACCproud to virtually celebrate on Dec. 15.
To view the ceremony, please visit HACC's YouTube channel. To view images of our graduates, please visit HACC's Flickr site.
Faculty Speaker: Patrick McMunn, Ph.D.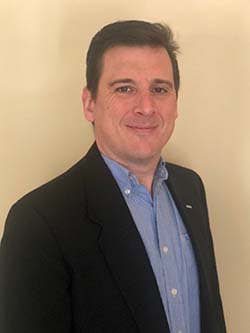 Dr. Patrick McMunn's hometown is Williamsport, Pa., where he graduated from Williamsport Area High School and earned the John Phillip Sousa Scholarship Award. After graduation, he enlisted into the U.S. Air Force, where he served as a satellite systems maintenance technician and a cryptologic linguist. Throughout his nearly 20-year career, he earned his way from airman basic to master sergeant understanding the importance of college education and mental health. Wherever he was stationed throughout the country, he volunteered at various mental health crisis centers and victim advocacy services. Concurrent with his military service, McMunn earned a Bachelor of Science degree from Wayland Baptist University in 2004, double majoring in computer systems technology and Russian area studies. McMunn was awarded two Joint Service Commendation Medals for exceptional achievements and received the Bronze Medal for linguistics, as he was internationally recognized as a top-performing expert in his field.
It wasn't until his undergraduate senior year, after taking an elective psychology course, that he discovered his true calling. Soon after graduation, he began focusing on psychology at the University of Alaska Anchorage. He earned a Master of Science in 2009, and then a Doctorate in philosophy in 2019, both in psychology from Walden University, where he was inducted into Psi Chi and Golden Key International Honor Societies.
After his career in the Air Force, McMunn committed himself to helping others as a mental health therapist and substance addiction counselor. He continues to value mentoring through his work as an online instructor of psychology at HACC, Central Pennsylvania's Community College, Lackawanna College and Upper Iowa University. McMunn currently lives with his wife and teenage sons in East Stroudsburg, Pa., where he serves as a full-time instructor in psychology at East Stroudsburg University and is an active member in Sigma Xi, which mentors students in science, technology, engineering and mathematics (STEM)-related research. Additionally, he serves as a judge advocate, an officer position, at the George N. Kemp American Legion, Post 346 in East Stroudsburg, further evidence of his proud commitment to service, locally and nationally.
As a valued member of his local community, a proud military veteran and a respected educator, McMunn hopes to continue making strides in the field of psychology, mental health and education through continued research, service and mentorship.
Fall 2020 Student Representative: Kathy Naylor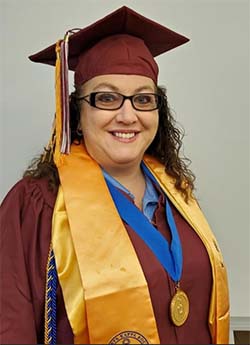 Kathy Naylor is graduating with an Associate in Applied Science (AAS) in early care and education. She is very active at HACC's Harrisburg Campus and her community and is a member of the Phi Theta Kappa Honor Society and The National Society of Collegiate Scholars. Naylor is a teacher at U-GRO Learning Centres at HACC's Harrisburg Campus where she empowers every child, parent and co-worker that walks through their doors.
Her favorite quote is by Robin Williams, "No matter what people tell you, words and ideas can change the world."
Alumna Speaker: Brianna Campbell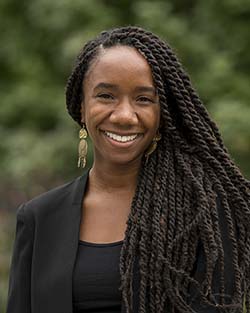 HACC alumna, Brianna Campbell, said, "I'm in the business of helping people be intentional. Whether they are building a healthy company culture, developing their leadership skills, or wanting to foster healthier relationships - if they are intentional, they begin to unlock true potential."
After graduating from HACC, Central Pennsylvania's Community College, with an Associate in Applied Science (AAS) in general studies, Campbell graduated from Cornell University with a bachelor's degree in communication. She then stepped into a consulting role at Wakeen & Company and currently serves as a culture strategist and a gallup-certified strengths coach. She said, "I've had the privilege of walking individuals, families, corporate teams, and entire organizations through the process of understanding their strengths, strategic planning, and organizational development. The work I get to be a part of is all about understanding and communicating our clients' stories."
Campbell added, "There is power in putting language to your identity. When we lean into our strengths and who we naturally are, potential suddenly becomes reality. What an honor and joy it is to watch that unfold."
How can I share my excitement?
No matter where you're celebrating on Dec. 15, share YOUR excitement with us:
Share YOUR Commencement images on social media
Tell us how you're celebrating this remarkable achievement
Give shout outs to your favorite HACC employees
Tag HACC in your posts

Did HACC develop printable and sharable yard and social media signs?
We want our HACC graduates to show they are #HACCproud wherever they may be celebrating this achievement. To do this, we've created yard and social media signs for you to display for all to see.
 
Yard Signs:
The yard signs are 18x27 inches. You can even fill in your or your graduate's name where "Name" is listed on two of the signs!
Please:
Select the sign that you would like to print from the thumbnail options below
Download the PDF
 Add your graduate's name (if you chose one of the signs with the fillable "Name" area)
Save the sign to your computer
Print the signs through a local print or online vendor
Display the signs proudly in yards
Share the photos on social media with the hashtag #HACCproud and #HACCgraduate
Social Media Images:
Please download the image of your choice, save it to your computer and proudly share it on social media. Please use the hashtag #HACCproud and #HACCgraduate, and the College may share your post on our social media accounts.

 

 

 

 

 
Can I invite guests?
#HACCyeah! The ceremony link will be available on our website. Students can also find the link on myHACC.
Where can I purchase a cap and gown?
Graduates do not need to purchase a cap and gown to participate in the fall 2020 virtual Commencement ceremony. However, interested students can purchase a cap and gown online from HACC's bookstore.
---
---

---
Many congratulations on your graduation, HACC Class of 2020!! - Your Friends at Optimal IdM
---
Congratulations on your achievements, HACC graduates!
We understand discipline, hard work, and achieving long-term goals. Congratulations Class of 2020! From SEK, CPAs & Advisors.
---
Kudos and Best Wishes from Glatfelter Insurance Group
---
---
Congratulations, HACC class of 2020! Best wishes from your local Harrisburg friends at Property Management, Inc.
---
CONGRATULATIONS to the HACC students of 2020!
---
Here's to more great milestones and success in your career path ahead! Your friends at Country Meadows Retirement Communities