Meet HACC's 'Campus Moms'!
These special women are the unofficial "campus moms" to students seeking advice, needing help or just looking for a sympathetic ear. Please read their stories below.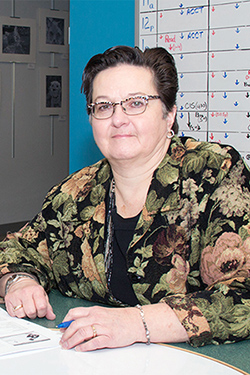 Annette Damato-Beamesderfer
As director of academic success at HACC's Lebanon Campus, Annette Damato-Beamesderfer is proud to run the tutoring and testing center - and equally proud to serve, unofficially, as the "campus mom."
After receiving a bachelor's degree in journalism from Penn State University, she raised her stepson and son and wrote for local newspapers for 12 years while attending Kutztown University at night to earn a master's degree in English.
With her graduate degree in hand, Annette joined 20 years ago as an adjunct faculty member and tutor. In 2008, she took over the tutoring center. Annette periodically also teaches English.
Annette loves her work with the students. "No two days are alike. My focus is on the kids, where I help with essays and one-on-one tutoring. I also take care of administrative tasks and supervise our student workers."
She is often referred to by the students as "Mama Bear" which, she admitted, started as a joke. "I displayed a Smokey Bear sign in my office since I see myself putting out fires. If someone comes to me with a problem and I don't know the answer, I'll find someone to help. I guess the name just stuck."
What does Annette notice most about the students at HACC? "They want to be here. Some are paying for their own education and see this as the first step to a great future. If I can nudge them along, then great." Every once-in-a-while, a student gets back to Annette to say how his or her life changed due, in part, to her intervention. "To be remembered that way by students is a terrific thing."
Troy Massey, a HACC alumnus and student at University of South Alabama, recalled, "I was a new student and computer illiterate. Ms. B. would spend hours on end every day, five days a week, encouraging and coaching me. She was patient, honest and truthful about where I needed growth as well as how I could achieve it. She encouraged me when I wanted to give up, and she made me into the student I am today."
How does Annette feel about being a "campus mom?" "I'm glad that students come to me and that I can help and guide them along the way."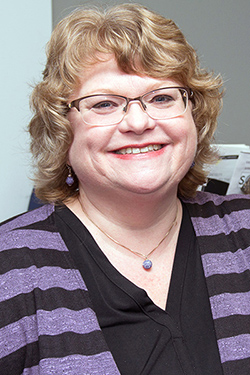 Tami Burkholder
As the first point of contact for students entering the Allied Health Department at HACC's Lancaster Campus, Tami Burkholder – campus "mom" and administrative program specialist for health careers – clearly loves her job.
The department offers a range of programs including two cardiovascular technology programs – cardiac sonography and invasive, radiology informatics and radiologic technology, plus other post-primary certification courses to prepare students for careers in the health field. However, the enrollment and scheduling process can be overwhelming for new students.
With patience, understanding and support, Tami guides them from application through clinicals to ensure that each is well-prepared for a successful transition. She consistently checks their progress throughout the two-year program, often maintaining relationships with students beyond graduation.
Tami wears another HACC hat - student. "I believe that the camaraderie I share with my fellow students makes me more approachable since I can appreciate what they're going through, first-hand."
Tami shared what led her to begin her studies at HACC. "I was never encouraged to go to college. Instead, I married at 19, had three children and worked in a local bank for 12 years."
Seeking a job change, she arrived at HACC in 2009 and was delighted to learn that employees can take classes at no cost after one year of employment "I always loved to learn and read, so it was only natural to begin earning my degree at HACC." She takes classes each term and has completed much of the coursework required to earn an associate degree in business management.
She takes pride in the students with whom she's formed special bonds, including Rachel Mixell, a graduate of HACC's Radiation Technology Program who has completed her coursework in computed tomography. "Being in the radiology program is very stressful and takes a toll on you. Whenever I went into the office, Tami made the time to stop and listen." Rachel also went through some personal struggles while in the program and appreciated Tami's guidance and compassion. "I don't know what I would have done without her."
What makes Tami's role at HACC such a positive experience is the students themselves. "One day, I was preparing to notify students of upcoming deadlines for information. An instructor saw me and asked me to come into the classroom. As soon as I entered, the entire class began to cheer! It felt wonderful to be so appreciated."
"I am so grateful for the opportunity to work with and support such special students here at HACC," she said.