Forms and Links for Disability Services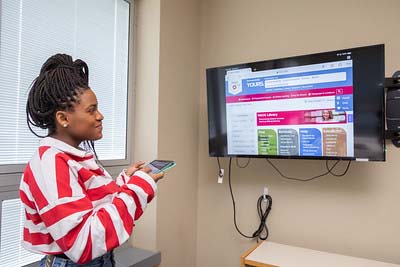 Accommodation Letter Requests
If you are a current SAS student wishing to request your accommodation letter be sent, please begin by logging into Accommodate.
Testing Accommodations
Student Access Services has created a college-wide testing request form and process. Faculty will fill out this form. Now more than ever, it is important that you communicate with your faculty about your testing accommodation needs at the start of the semester. If you have difficulty, please contact your SAS Coordinator .
Here is how the form and process will work:
Faculty request a need for a live proctor: Faculty Instructions for Academic Make-up Test & SAS Accommodated Testing - HACC Testing - LibGuides at Harrisburg Area Community College
Five days notice is needed to make proctoring arrangements.
Faculty will receive a confirmation email.
Testing and Student Access Services will then work to arrange for a proctor by coordinating with students, and provide the student with a Zoom link.
To serve all students at each campus location equitably, SAS accommodated exams with a reader and scribe proctor will occur with a remote HACC proctor. Students are able to come to Campus Test Centers and the HACC proctor will remote to the campus test center via Zoom. All proctoring arrangements are to follow the above proctor request instructions.
Student Access Services (SAS) Survival Guide
Student Access Services created the SAS Survival Guide to help students learn and navigate all of the various helping supports at HACC.
SAS will continue to update this guide with new information as it becomes available.

 
Links
The links below include information about rights and responsibilities for students served by Student Access Services as well as links to HACC's Shared Governance Policy documents related to services and accommodations.

It is important that you know you have rights and protections. If you feel you those rights are not being protected, please review the below information links.