Fall 2022 Commencement Ceremony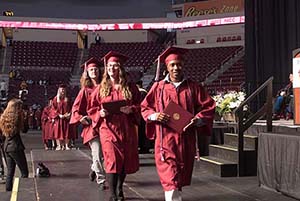 HACC, Central Pennsylvania's Community College, is #HACCproud of our graduating students, and we look forward to celebrating their remarkable achievements at 6 p.m. on Dec. 13, 2022, at the Giant Center in Hershey, Pa.
Please visit our Flickr site to view images of some of our fall 2022 graduating students.
Please continue to visit this webpage for additional information and note that this information is tentative and subject to change. 


Thank you to our generous fall 2022 Commencement sponsors!
Speakers
Jody Newcomer, M.A.
Faculty Representative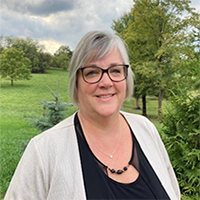 Jody Newcomer is an associate professor of communications at HACC, Central Pennsylvania's Community College.
She enjoys inspiring students to become more competent communicators and embrace their talents and uniqueness. Known as the "Fairy Godmother of Light," Newcomer helps people radiate their confidence from the inside out and impact others in a positive way.
Previously, Newcomer was an adjunct instructor at York College of Pennsylvania, The Pennsylvania State University, specifically at the York and Hazleton campuses, and the Art Institute of York, as well as a facilitator for business and etiquette programs with the Professional Edge.
Upon graduating with a Master's Degree in Communication Studies from Bloomsburg University, Newcomer traveled around the world for a year in the Up with People International educational exchange program with 150 students from 20 countries.
Throughout her career, she has worn many hats with a background in sales, marketing, business and commercial real estate. Some career highlights include:
Selling the world's largest shoe called the Haines Shoe House in Hallam, Pennsylvania
Operating PMS Solutions, a small mechanical contracting company, with her husband
Forming Resolute Light, a musical duo, with her brother Paul
Founding Women's Touch International in which she plans to create a compassionate global community and facilitate transformational workshops
In her spare time, she loves to write, sing and travel, and adores all things Disney.
Newcomer has a passion for spending time with family and friends (especially her husband Steve and daughters Sierra and Taylor) and inspiring others to create living legacies!
Stephanie Norman
Student Representative
Stephanie is graduating from HACC's Practical Nursing Program. She is also a member of the Phi Theta Kappa Honor Society. Norman plans to enroll in the College's Nursing Program in 2023, and upon completion, transfer to The Pennsylvania State University to obtain a forensic nursing certificate. Her dream job is to work in an emergency room as a forensic nurse examiner so she can take care of and advocate for victims of abuse or neglect.
Stephanie is married to her husband of six years, whom she has been with since she was 17. Together they have two beautiful children, a son and a daughter. She enjoys traveling and hopes to see more of the world once she is finished with school.
Her favorite quote is by Dwight Schrute from The Office: "I am ready to face any challenges that might be foolish enough to face me."
Dan Greenstein, Ph.D.
Mace Bearer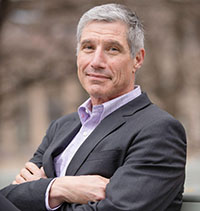 Dan Greenstein is chancellor of the Pennsylvania State System of Higher Education (PASSHE), the state's public university system serving more than 90,000 students. He is leading a redesign of the system focused on expanding opportunities for all while meeting the state's workforce development needs.
Greenstein's previous roles include director of the Bill and Melinda Gates Foundation's postsecondary success strategy and vice provost for academic planning and programs for the University of California.
He has also led internet-based academic information services in the United States and the United Kingdom, and served on boards and engaged in strategic consulting. He began his academic career as a senior lecturer in modern history at Glasgow University in Scotland.
A professional historian by training, Greenstein holds bachelor's and master's degrees from the University of Pennsylvania in Philadelphia and a doctorate in philosophy from the University of Oxford in Oxford, England.
An enthusiastic cyclist, Dan and his wife, Melissa, have two children.
Student singer Catherine Schubring for "America the Beautiful"
Catherine Schubring
Student Singer for "America the Beautiful"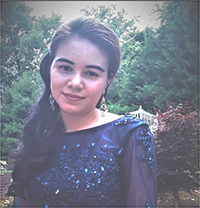 Catherine Schubring, better known to friends as Caty, has lived in Pennsylvania for 20 years and attended HACC since 2020. Schubring recently began singing publicly; however, singing has been a passion of hers since she could speak.
Besides singing, Schubring loves being involved in her community, including her church. Schubring has appreciated the rights and privileges that come with being an American, especially the freedom of religion. Being a Christian, she feels it is her duty to do the utmost for her country. Part of that duty is to grow in love and appreciation for one's country, especially the United States, that was founded by Christians. The hymn Schubring sing today reminds her that God has given us much, and she hopes to succeed today in bringing out that message of God's goodness and love that He has shed on our blessed country.
How can I share my Commencement excitement?
No matter where you're celebrating, share YOUR Commencement excitement with us on social media!
Share your Commencement images 
Tell us how you're celebrating this remarkable achievement
Give shout outs to your favorite HACC employees
Tag HACC in your posts
Frequently Asked Questions (FAQs)
Can caps be decorated?
Yes, show you are #HACCproud of your accomplishment!

*NOTE* Giant Center will not allow any battery packs through security. Please do not use lights or other electronic features.
 

Can graduates wear honor cords and stoles?
Yes, students are welcome to wear cords and stoles that represent their identities and celebrate achievements. In example, stoles for military or veteran status and cultural representation are available from the bookstore. 

For the Phi Theta Kappa members, stoles and cords can be purchased at the PTK store. 

The HACC bookstore provides cords for Honors Graduates of HACC's Nursing Program taking part in Fall 2022 graduation ceremony. Only qualified students on a pre-approved list for each campus will be allowed to purchase a pack.

How can family and friends send a congratulatory message to their graduating student?
At HACC, Central Pennsylvania's Community College, we're #HACCproud of our #HACCgraduates. To celebrate the remarkable achievements of our fall graduates, we need YOUR help! 

By Dec. 1, please  complete the form to share your congratulatory message and best wishes to YOUR graduating student. Your submission may be shared during the ceremony and/or on HACC's social media sites.
 

How can I request accessible accommodations?
Submit accessible accommodations form by Dec. 6.
 

How long does the ceremony last and do I need to participate in the full ceremony?
The ceremony will last approximately two hours and all graduates are not to leave until HACC volunteers dismiss you to exit the arena floor.
 

How many guests can graduates invite to the ceremony?
There is no limit on how many guests can attend the ceremony. However, on participation form please put an approximate # of guests that will be attending for venue purposes.
 

If I am not able to attend the ceremony on Dec. 13, how will I receive my diploma?
All graduating students will not receive their diploma at the Giant Center on Dec. 13. In January they will be mailed to the graduate.

Anyone can view the ceremony livestream on YouTube. Link will be available soon, check back.
 

If I graduated last spring or summer 2022, can I participate in this ceremony?
The fall 2022 Commencement ceremony is for HACC's class of fall 2022 only.
 

What time does the doors open for graduating students and guests?
Doors open for graduates and guests at 4:30 p.m. Students will check-in at the table outside the Giant Center before security.
 

The attire for the ceremony for all graduates is a cap and gown.
You can purchase graduation merchandise at the HACC bookstore.
 

What if I completed the participation form and can no longer attend the ceremony?
Email commencement@hacc.edu, if you can longer attend the ceremony.
 

Will the graduate's names be called at the ceremony?
Yes, graduates will fill out a name card before they are seated. Once, graduate walks on stage, they will hand the marshal their name card to read.
 

Will there be a ceremony rehearsal?
No, there will not be a ceremony rehearsal. HACC volunteers will guide our graduating students through the ceremony process.
 

Will there be food and snacks sold at the concession stands during the ceremony?
Yes, there will be food and snacks sold at concession stands for guests. Bottled water will also be available for sale for guests and graduates.
 
Any questions, contact the Commencement office at commencement@hacc.edu
Dr. Ski congratulates HACC's class of fall 2022 !
Did HACC develop printable and sharable yard and social media signs?
We want our graduating students to show they are #HACCproud. To do this, we've created yard and social media signs for you to display for all to see.
Yard Signs:
The yard signs are 18x27 inches. You can even fill in your or your graduating student's name where "Name" is listed on the signs!
Please:
Select the sign that you would like to print from the thumbnail options below
Download the PDF
Add your graduating student's name (if you chose one of the signs with the fillable "Name" area)
Save the sign to your computer
Print the signs through a local print or online vendor
Display the signs proudly in yards
Share the photos on social media with the hashtag #HACCproud
Social Media Images:
Please download the image of your choice, save it to your computer and proudly share it on social media. Please use the hashtag #HACCproud, and the College may share your post on our social media accounts.