HACC's Consultation, Advocacy, Referrals and Empowerment (CARE) Center
CARE Center Summer 2023 Office hours: Monday through Thursday 8:00am – 5:00pm.
We are pleased to offer on-campus appointments. We do work by appointment and strongly recommend you contact us to schedule, so we can greet and meet with you. We continue to offer Zoom, email, and phone interactions.
May 19th through August 18th, offices are closed on Fridays.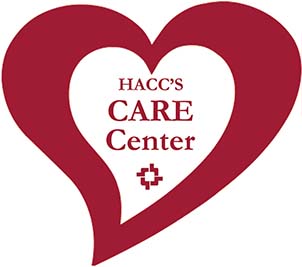 The Office of Inclusion, Diversity and Belonging, and Title IX works to be inclusive and responsive to the needs of our students. As such, The Care Center offers an on-campus presence Monday through Thursday 8am – 4:30 PM at Harrisburg and York locations. Fridays we are available remotely. We continue to serve all HACC students via Zoom, email and phone interactions.
Reporting to the Title IX office can be done through BIT reports or Campus Security 24/7.
We care about the success and well-being of our students, and we are here to help. HACC's first priority is providing a high-quality, affordable, accessible education to all. However, we know that some students need support outside the classroom in order to succeed inside the classroom.
HACC, Central Pennsylvania's Community College, proudly established the Consultation, Advocacy, Referrals and Empowerment (CARE) Center as a single stop where students can go for assistance with non-academic challenges. This is a free resource available to all current HACC students.
Dedicated staff in HACC's CARE Center will connect students to resources at the College and in the community to help with the following:
Child care

 

 

Students may be referred to the KEYS Program for access to the Early Learning Resource Center and financially subsidized child care, or students are referred to community-based resources according to their region. 

Child care options are available at HACC's Harrisburg and Lancaster campuses. 

Food

 

The CARE Center maintains a database of food pantries, food banks and food distribution locations in HACC's service area. Coordinators provide information and referrals to locations for students in need.

Health care

 

The CARE Center has established relationships with hospitals and clinics. Coordinators refer students to services and make them aware of low-cost and pro-bono healthcare services as much as possible.

Housing

 

The CARE Center maintains a database of shelters and housing assistance agencies in HACC's service area. Coordinators refer students in need of housing to agencies and shelters.   

Mental health services

If a coordinator meets with a student who is in crisis and requires mental health treatment, the coordinator refers the student to hacc.edu/mentalhealth.

Social services

 

Coordinators refer students in need of social services – including Temporary Assistance for Needy Families (TANF) and Supplemental Nutrition Assistance Program (SNAP) – to the KEYS Program.

Transportation
 

CARE Center staff coordinate with the College's bookstore to assist students with public transportation bus passes.
HACC is committed to providing excellent services to students no matter where they are. While HACC campuses are closed during the global coronavirus pandemic, the CARE Center operates remotely.

CARE Center Support Intake Form
Send an email to a CARE Center coordinator.
Please fill out this form to help determine which benefits you may qualify for. You and your family may be eligible for services.