Junior First Responder Camp 2022
Does your child (age 13-16) want to learn about saving lives and have an interest in learning more about firefighting, emergency medical services (EMS) or law enforcement?
Firefighters, EMS providers and law enforcement professionals are the first responders that work together to help save lives every day.
HACC is hosting fun, interactive and educational first responder camp in summer 2022! During the four-day camp, students will learn from professionals who work and train as first responders in our community!
Camp for Ages 13-16
Dates: July 11 - 14, 2022 or Aug. 8 - 11, 2022
Time: 8 a.m. - 3 p.m.
Location: Senator John J. Shumaker Public Safety Center (PSC), Gate 5
Cost: $250 per child (includes a T-shirt, snacks, transportation for field trips and a lunch on the final day)
Students will learn about and participate in activities related to:
EMS Operations
Fire extinguisher safety and training
Live fire
Police Academy introduction
Police dogs (K-9)
Team Building
Additionally, students will participate in a panel discussion with professionals from the field and visit the Dauphin County 911 Center, PEMA, and Harrisburg Bureau of Fire.
At the conclusion of the camp, students will participate in a first responder scenario to demonstrate the skills they learned throughout the week.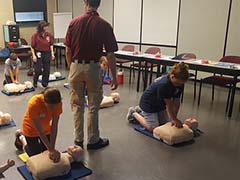 Reserve YOUR Child's Spot Now!
Registration is first come, first served. Don't wait to sign up today!
Complete YOUR Summer Camp Application here!
Safely YOURS.