Mental Health and Suicide Prevention Resources
Here at HACC, Central Pennsylvania's Community College, we know that the challenges and uncertainties of life can impact one's mental health. The College wants everyone to be aware of the signs, symptoms and resources available to anyone who is experiencing a crisis. If you, or someone you know, are experiencing thoughts of suicide, please know there are many options available to access immediate help.
Suicide Prevention Hotlines
If you or someone you know is having thoughts of suicide or experiencing a mental health or substance use crisis, 988 provides 24/7 connection to confidential support. There is Hope. Just call or text 988 or chat 988lifeline.org #988Lifeline.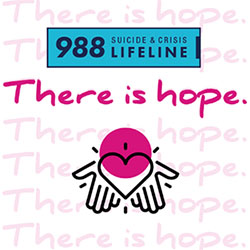 Other National Hotlines:

State:

Local:
Suicide Warning Signs and Symptoms
Some warning signs and symptoms may help you determine if a loved one is at risk for suicide, especially if the behavior is new, has increased or seems related to a painful event, loss or change. Below are some of the potential warning signs:
Talking about wanting to die or kill themselves
Looking for a way to kill themselves, like searching online or buying a gun
Talking about feeling hopeless or having no reason to live
Talking about feeling trapped or in unbearable pain
Talking about being a burden to others
Increasing the use of alcohol or drugs
Acting anxious or agitated; behaving recklessly
Sleeping too little or too much
Withdrawing or isolating themselves
Showing rage or talking about seeking revenge
Extreme mood swings
 
Reference:  National Suicide Prevention Lifeline 
Crisis Intervention Services
If you or someone you know exhibits any concerning signs or symptoms, consider seeking help by contacting the crisis numbers below:
Mental Health Services
Mental Health Support Services Provided by HACC
Mazzitti & Sullivan EAP: HACC provides mental health services for all enrolled students. A part of this service provides triage services that are available by calling the number below. Students get their first three counseling sessions per semester paid for by HACC.
Self-Help Mental Health Applications
*All can be downloaded to your phone or computer via the associated app store:
All basic services of the apps are free. Upgrades to services can be purchased at your discretion. Use of these apps is intended only for self-help purposes and not to replace mental health crisis intervention or treatment.
Additional Resources
Communication Plans
HACC offers mental health webinars and programs for faculty, staff, and students to increase awareness and reduce the stigma associated with mental health. All students in the First Year Seminar course are informed of the mental health resources provided by the college. These services and resources are also communicated to students numerous times each year through the use of email, newsletters, web slides, Padlet, Brightspace (D2L), Navigate, etc.
Post-Intervention Plans
In the event of an emergency, counseling and support services will be made available to all impacted students and employees. The College will follow its established guidelines for communicating with the HACC community.
If you have any questions about anything this page contains, please contact eso@hacc.edu.