Placement Testing
At HACC, we want to ensure our students have the necessary skills to succeed in college-level courses. Through examination criteria and placement testing, our students can provide evidence of these skills . Placement testing provides HACC with the tools to help our students achieve their goals no matter where they are in their educational journey.
How can I find out if I am exempt from math and English placement testing?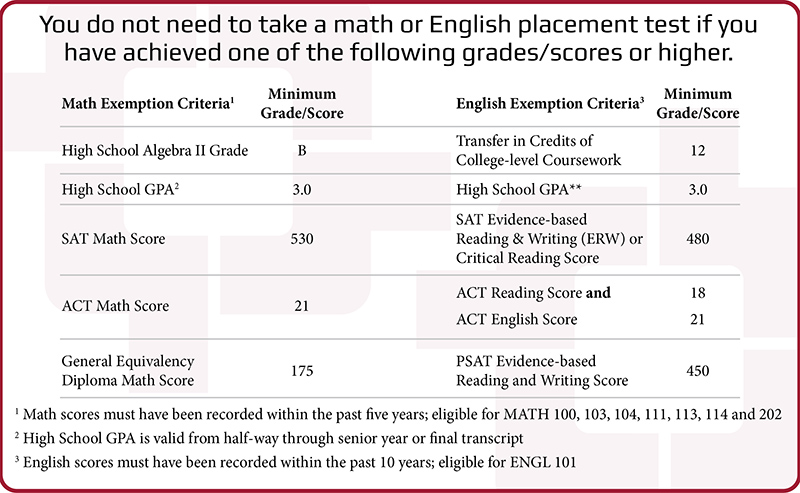 If you are exempt from math and English placement testing, you are eligible to enroll in college-level math and English courses. Please contact Christine Nowik, English department chair, at cmnowik@hacc.edu if you have questions about exemption criteria.
How do I submit a high school transcript or SAT, ACT or GED score report?
High school transcripts or score reports may take up to five business days to be evaluated for placement and may be submitted in one of the following ways:
Mail to:
HACC, Central Pennsylvania's Community College
Central Admissions Office, C131
One HACC Drive
Harrisburg, PA 17110-2999
 
Email to admission@hacc.edu
How do I submit a college transcript?
Who do I ask about accommodations before I take the placement test?
If you have a documented disability and require special assistance with testing, please contact your campus to schedule testing.
Gettysburg Campus, 717-339-3535
Harrisburg Campus, 717-780-2614
Lancaster Campus, 717-358-2972
Lebanon Campus, 717-270-6333
York Campus, 717-801-3276
How do I take a math placement test?
Students who do not meet the exemption criteria in math will take the ALEKS Placement, Preparation and Learning (PPL) test. The PPL test is designed to measure a student's math foundation, allowing for review and refreshment of math skills. Students do not need to schedule a time to take the online test. A link to the test will be sent to their HAWKmail account by HACC's Admissions team.
To practice before taking the assessment, please review sample questions and visit  aleks.com/free_trial.
After I receive my math placement test results, how do I find out what math courses I need to take?
How do I schedule an English placement test?
Students who do not meet the exemption criteria in English should schedule a Zoom-proctored placement test with the Test Center to test out of developmental English.
To prepare for the test, please review sample questions on our website.
If I am not exempt and do not want to take the English placement test, what are my options?
Students may enroll in one of the following combinations of courses:

English 003 (reading) AND English 051 (writing)

English 057 (integrated reading and writing)
English 002 (Strategy Based Reading II) and English 050 (Fundamentals of College Writing I)

Please review "Which English Course is Best for YOU ?" for more information about making the best choice for your academic needs.
How can I prepare for and schedule the First Year Seminar test-out exam?
HACC, like colleges around the country, has a First-Year Seminar (FYS) course requirement to help ensure your success as a student. All students must meet this requirement by either taking appropriate coursework or using the test-out option.
 If you are interested in testing out, please use the following resources to prepare:
For information regarding the First Year Seminar test-out exam, please review the Test Out Form and Procedures (pdf).
Where can I find information regarding the Test of Essential Academic Skills (TEAS)?
The TEAS is a required test for students submitting application to HACC Nursing and Dental Hygiene programs. The TEAS measures basic essential skills in the academic content area domains of reading, mathematics, science and English and language usage.
Please consult with an advisor before scheduling the TEAS exam. Information about scheduling the TEAS exam for nursing is available here.