Massage Therapist Continuing Education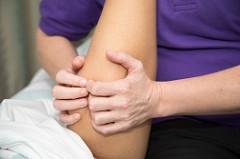 Ethics for Massage Therapy (4 CEUs) - customized programs for your employees. Contact Nina Kottcamp, BCTMB, LMT (MSG003911) nmkottca@hacc.edu
Reflexology National Certification Prep Course - 6 weekends offered every spring (provides 100 CEUs for PA and NCBTMB LMTs). Follow this link to register for the Reflexology course.
CPR - follow this link to CPR classes
Orthopedic Massage Program offered every January  - Take your practice to a new level with advanced orthopedic massage.  This 5-module program provides 30 CEUs for PA licensure (6 per module). A certificate of completion will be awarded upon successful completion of all 5 modules. Follow this link to register for the Orthopedic Massage course (check back this fall to register for the next class - or contact Nina Kottcamp - nmkottca@hacc.edu.
Ayurveda Massage Program 30 CEU's offered every August - REGISTER NOW - This course is designed to cover theory and hands on techniques related Ayurvedic practices. Enhance your current skill set with this course and become certified in Ayurvedic massage.
Just like the mongoose, who after eating the rattlesnake and was bitten by it, eats the special herb to keep it alive, ayurveda tested such herbs on humans, mimicking nature. From a 5000 - 6000 year old practice, ayurveda has tested its theories over and over again. As massage therapists, you will be able to use these time honored practices to expand your massage techniques with some of the most beneficial and therapeutic modalities.
 
Licensed and board certified massage therapists will be awarded 30 credits toward the Health Science associate degree.
Who do I contact for more information?
Program Coordinator
Nina Kottcamp, BCTMB, LMT (MSG003911)
nmkottca@hacc.edu
717-221-1386