Massage Therapist Continuing Education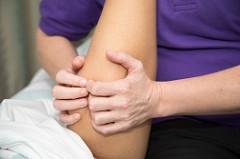 Ethics for Massage Therapy (4 CEUs) - customized programs for your employees. Contact Nina Kottcamp, BCTMB, LMT (MSG003911) nmkottca@hacc.edu
Reflexology National Certification Prep Course - 6 weekends offered every spring (provides 100 CEUs for PA and NCBTMB LMTs). Follow this link to register for the Reflexology course.
CPR - follow this link to CPR classes
Orthopedic Massage Program offered every January  - Take your practice to a new level with advanced orthopedic massage.  This 5-module program provides 30 CEUs for PA licensure (6 per module). A certificate of completion will be awarded upon successful completion of all 5 modules. Follow this link to register for the Orthopedic Massage course (check back this fall for the January 2021 class - or contact Nina Kottcamp - n mkottca@hacc.edu.
Licensed and board certified massage therapists can will be awarded 30 credits toward the Health Science associate degree.
Who do I contact for more information?
Program Coordinator
Nina Kottcamp, BCTMB, LMT (MSG003911)
717-221-1386