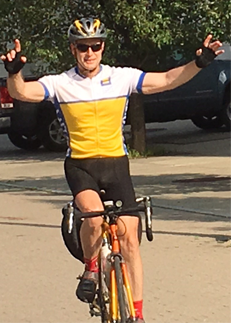 Crowdfunding for
HACC
What is Crowdfunding? Crowdfunding is the practice of funding a project or cause by raising money from a large number of people, typically through the Internet. It is a form of peer-to-peer fundraising that harnesses the power of social networks to raise awareness and draw donations from around the world for online campaigns.
www.youcaring.com/crowdfunding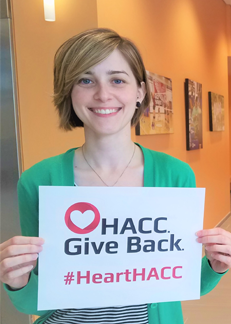 Current Campaigns
Campaign

Fund Supported

Campaign Description

Event Images

#Swim4HACC
Bruce E. Cooper Student Center Renovation Fund

From Feb. 23-March 7, 2020, Louise Hyder-Darlington will #Swim4HACC at the Memphremagog Winter Swimming Society Challenge in Newport, Vermont.

Swimming in ice-cold water pushes her to believe the best about herself. No one really wants to get into water that is literally turning to ice in front of you, but she trains hard and with great focus to push through. And it is that same focus and drive that she taps into the morning of a swim to deliver her best performance.

She is raising funds to help our students so that they can continue to show up every day and do their best.

Please join Louise in supporting our HACC students.
Past Campaigns
Campaign
Fund Supported
Campaign Description
Event Images
Fundraising Goal
Amount Raised
DACA DREAMers Scholarship Campaign
DACA DREAMers Scholarship Fund
From Aug. 11-24, 2019, Megan Kopitsky, Iveth A. Anguiano Martinez and Stephanie M. Nunez raised money to support DREAMers at HACC. The students raised $1,579 through their crowdfunding campaign to support HACC DREAMers - young men and women who were brought to the United States by their parents when they were children or teens. The fund will provide access to a high-quality, affordable education, allowing HACC learners the opportunity to achieve their dreams.
$2,000
$1,579
#600Miles4HACC
Cooper Student Center Renovation Fund

From June 30 to July 5, Dr. Ski biked through South Dakota's Black Hills and Badlands starting from Pierre, SD to raise funds for the Bruce E. Cooper Student Center at HACC's Harrisburg Campus.

Dr. Ski's supporters raised $5,020.51 for the Cooper Center, which provides critical services to learners collegewide such as counseling, military and veteran resources and disability services. These services can make the difference between a learner completing their education or dropping out.

$1,000
$5,020.51
#OnFire4HACC
Bruce E. Cooper Student Center Renovation Fund

From April 8-April 12, 2019, Tim DeFoor, HACC Foundation Board chair, raised money to support HACC students! On April 9, Tim camped out for 24 hours on the roof of a 50-foot building and climbed down using a 79-foot ladder.

Tim raised $1,004 through his crowdfunding campaign to support the heart of the Harrisburg Campus – the Bruce E. Cooper Student Center. HACC students look to the Bruce E. Cooper Student Center as a community gathering space that enriches their academic experience, provides social offerings and extends the College atmosphere beyond the walls of the classroom.  

For more information about the Bruce E. Cooper Student Center, please visit the Bruce E. Cooper Renovation webpage.

$1,000
$1,004
#75ForGettysburg
Community Endowed Gettysburg Campus Nursing Scholarship
From Sept. 30-Oct. 13, 2018, Gary Laabs – a nurse, veteran, proud HACC alumnus, HACC Foundation Board member and Gettysburg Campus Advisory Committee member – raised money to support HACC students in celebration of his 75th birthday! Nurses like Gary are on the front lines of our hospitals and in healthcare. Each day, through tireless dedication and compassion, they ensure that our loved ones are cared for. HACC's Gettysburg Campus is celebrating 15 years of excellence in nursing education. To date, 631 students have graduated from the Gettysburg Campus associate degree nursing program. In honor of this milestone birthday, Gary asked others to join him in supporting students who dream of becoming nurses! Gary raised $3,248 through this crowdfunding campaign to support HACC's Community Endowed Gettysburg Campus Nursing Scholarship.

For more information about scholarships at HACC, please visit the scholarships webpage.

$5,000
$3,248
#Climb4Classes
Nursing Fund for Excellence
From June 15-19, 2018, HACC Foundation Board member Jonathan Williams and his friends, Jesse Whitcomb and Erik Kohan, climbed Mount Hood in Oregon and Mount Adams in Washington then skied down each mountain upon reaching the summit. Each mountain was more than 11,000 feet high. When Jonathan joined the HACC Foundation Board in 2016, he compared the challenges students at HACC, Central Pennsylvania's Community College, face while earning an associate degree with the challenges he faces when climbing a mountain. As a HACC nursing faculty member, Williams' wife, Diane Klescewski, sees the many challenges students face and overcome in their journey. Jonathan saw his planned climb as a way, through crowdfunding, to ensure students in need can "reach the summit" so they can enjoy a fulfilling career. Jon raised $5,387 through this crowdfunding campaign to support HACC's Nursing Fund for Excellence. 


For more information about the funds for excellence, please visit the funds for excellence webpage.
$5,000
$5,387
#70th4Nurses
Nursing Fund for Excellence

In celebration of his 70th birthday on June 20, 2018, Ron Rebuck, director of nursing at HACC's Harrisburg Campus, led a crowdfunding campaign to support the Nursing Fund for Excellence.

The Nursing Fund for Excellence will ensure that the Nursing Program stays on the cutting edge with the most innovative programs and technology to allow nursing students to pursue their dreams of obtaining an Associate in Science (AS) in Nursing.

Ron raised $2,905 through this crowdfunding campaign to support HACC's Nursing Fund for Excellence.

 

For more about HACC's funds for excellence, please visit the funds for excellence webpage

$2,000
$2,905
Funds for Excellence Crowdfunding Competition

Fund for Excellence for Dental Programs
Fund for Excellence for Developmental Education
Fund for Excellence for STEM
Fund for Excellence for Teacher Preparation
Fund for Excellence for the Benjamin Olewine III Center for the Study of Culinary Arts and Food Service Management
Fund for Excellence for Virtual Learning
Fund for Excellence for Workforce Development
Fund for Excellence in Healthcare
Fund for Inclusive Excellence
Global Education Fund for Excellence
The English as a Second Language (ESL) Fund for Excellence

HACC employees are committed to serving our current and future students by providing an innovative educational experience that will prepare them for a successful career. That is why 11 of HACC's most passionate employees represented a particular fund for excellence and "competed" to see who could raise the most money for their selected fund.

The leaders of the crowdfunding competition raised $13,917! The winning fund of the campaign was the Fund for Excellence in Healthcare, which brought in $3,866. This money will help keep HACC's educational programs on the cutting edge of innovation.

For more information about the funds for excellence, please visit the funds for excellence webpage.

$11,000
$13,917
#RUN4HACC
Collegewide Student Success Fund for Excellence

Our College leadership, faculty and staff are passionate about helping HACC students reach their educational goals. A group of six HACC colleagues ran the extra (202) miles to show their support for HACC students AND raise money for the Collegewide Student Success Fund for Excellence by completing the Ragnar Relay from Lancaster to Jim Thorpe, Pennsylvania from June 15-16, 2018. The HACC Yeah! team experienced first-hand the challenge of completing a 202-mile road race, running through the day and night for HACC students. We are #HACCproud.

Through this crowdfunding campaign, the HACC Yeah! team raised $3,416 to support student success at all of HACC's campuses and through virtual learning. 

For more about #RUN4HACC, please visit our event album.

$3,000
$3,416
Louise Hyder-Darlington's English Channel Swim
HACC Student Emergency Assistance Fund

On Aug. 1, 2017, Louise, a cataloging specialist at HACC, Central Pennsylvania's Community College, and her team, Channeling Greatness, completed a six-person English Channel relay swim in 14 hours and 20 minutes! Louise and her team experienced first-hand the challenge of completing the "Mount Everest" of open water swims. In fact, fewer people have swum across the English Channel than have climbed Mount Everest!

Like Louise's epic swim, college is a challenge that requires physical and mental endurance, stamina and strength along with institutional and social support. Fortunately, like Louise, HACC students are always surrounded by "safety boats," and our donors help to keep these safety boats afloat. 

Louise raised $2,113 through this crowdfunding campaign to support HACC's student emergency assistance funds. (pdf)

In August 2018, Louise will swim the English Channel solo. Stay tuned for more about that adventure!

For more about Louise's adventure, visit our English Channel Playlist.

$1,500
$2,113
Dr. Ski – Tour de Dr. Ski
HACC Student Emergency Assistance Fund

If you follow Dr. Ski on Facebook and Twitter (@HACCSki), you will see that he is passionate about helping HACC students reach their educational goals. In addition, he is quite passionate about the sport of cycling.

How do these two passions relate?

Each year, Dr. Ski takes one week to ride by himself and reflect upon the successes from the previous academic year and plan for the next academic year. From May 26 to June 2, 2017, Dr. Ski cycled more than 600 miles from New Orleans, Louisiana, to Nashville, Tennessee, in an effort to raise funds in support of HACC students through the College's student emergency assistance funds. (pdf)

Through this crowdfunding campaign, Dr. Ski raised $4,450 to empower HACC students who face financial emergencies to achieve their educational goals by helping to cover a portion of an unexpected expense related to a crisis.

For more about the Tour de Dr. Ski, please visit our event album.

 

$3,000
$4,450
Nikki Grissinger – Day of Giving
HACC Student Emergency Assistance Fund

HACC alumna, Nikki Grissinger, loves HACC because her educational experience prepared her to succeed in her dream career. As a nurse, she is doing what she loves – helping others. While she did not receive emergency assistance funds from HACC, she knows what a difference help from someone who cares can make.

Nikki raised $675 to support HACC's student emergency assistance funds (pdf) during the 2017 Day of Giving.

$500
$675