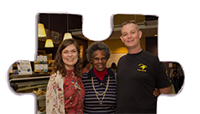 Charitable gift planning allows you to support causes that matter to you – into the future. The Paxton family is an example of this. With charitable gift planning, you may receive substantial tax, estate planning and other financial benefits.
Following is information about the most common (and easiest) ways you can leave a legacy for HACC:
Bequests are the simplest of all planned gifts.
You can choose to leave a fixed dollar amount or a certain percentage of your estate to the HACC Foundation to benefit the College. You can also designate for the HACC Foundation to receive the residual amount after your estate allocations are fulfilled. No gift is too small, and every gift is appreciated. Your gift to HACC will prolong both your legacy and HACC's legacy. If you are considering remembering HACC in your will, now is the time to plan with your attorney and a representative of the HACC Foundation.
Life insurance policies can be a gift to the HACC Foundation.
You can simply change the beneficiary of a policy to the HACC Foundation or purchase a new life insurance policy naming the HACC Foundation as beneficiary and owner.
Leaving an inheritance to HACC in your last will and testament and/or an insurance policy is not only for the "rich and famous." Imagine if every HACC supporter would leave $5,000 to HACC... What a difference that would make!
For your convenience, in addition to the brochure on the right, we have these resources for you: