Invest. Impact. Inspire. Campaign for HACC
Join the Movement. YOUR Gift Counts.
At HACC, we are devoted to enhancing the student experience and inspiring success for as many lives as possible. Our students share the dream to transform and positively alter their way of life – forever.
HACC is a place where:
Veterans seek refuge
Students meet others and make friends for life
Single mothers and others work up the courage to seek financial aid and enroll in classes
Curious students learn about study abroad, intercultural opportunities and diversity initiatives
Everyone has a place
And it's about YOU – the people who make it all happen.
Thanks to generous, broad-based community support, the HACC Foundation recently surpassed three campaign goals.

Please Give Now

Current and Former Students Who Have Benefitted from Your Generosity:
Have a question about the Invest. Impact. Inspire Campaign for HACC? This page has the answers to the most frequently asked questions. Of course, we welcome your additional questions. Please send us an email at foundation@hacc.edu.
Help us make sure the student experience at HACC is second to none!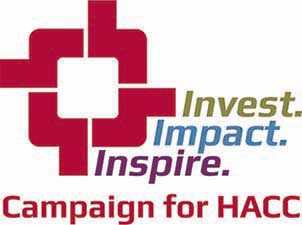 Total

10709825

* The current fundraising campaign began in August 2015. A previous fundraising campaign for the Bruce E. Cooper Student Center started in December 2010. The last contribution toward it was received in June 2019 . A total of $645,012.85 was raised for the previous fundraising campaign. The current fundraising goal thermometer includes the funds raised for the previous fundraising campaign.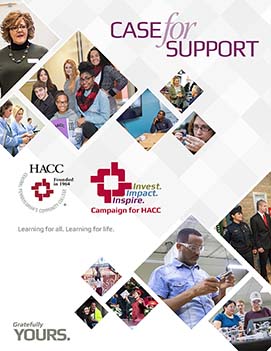 Digital Case for Support (pdf)