Student Success Fund for Excellence at the Lebanon Campus
About the Fund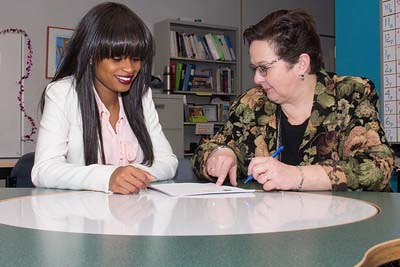 Many students at community colleges across the country face struggles with food and housing insecurities. A study of more than 33,000 students at 70 community colleges showed that one in three students are regularly hungry, and 14 percent of students are homeless. Students at HACC's Lebanon Campus are not immune to these struggles. More than 10 percent of the population in Lebanon County live below the poverty level, and almost 60 percent of students at the Lebanon Campus apply for financial aid or are eligible for Pell Grants.
Impact
The Student Success Fund for Excellence at the Lebanon Campus was created to provide students with innovative activities and events that not only assist them with overcoming financial struggles but also show they truly matter to the College and employees.
Textbook Library – The HACC Foundation awarded $5,000 to purchase current copies of textbooks for use by HACC students in the library. Providing these textbooks helps us to ensure that HACC students can succeed despite social-economic circumstances. A total of 60 textbooks were purchased.
Fulton Bank Parking Spaces – HACC's Lebanon Campus has very limited parking for students. Fulton Financial has agreed to fund 25 parking spaces in a nearby parking garage annually when the campuses reopen. Additional parking spaces will help alleviate parking congestion and reduce costs that some students incur due to paying for public parking.
For more information, please contact the HACC Foundation at foundation@hacc.edu.