HACC Foundation Donors are Recognized and Awarded

"HACC, Central Pennsylvania's Community College, is an innovator and motivator; HACC is inspirational and educational."
This is the response Brian Kennedy, president of KCA Wealth Management LLC and a wealth planning advisor, gave when asked why he supports HACC and the HACC Foundation.
On April 13, 2018, HACC, Central Pennsylvania's Community College, held the "Celebrate YOU" event to recognize donors – like KCA Wealth Management LLC – with the Spirit of Philanthropy Award. The Spirit of Philanthropy Award was presented to thank donors for their support of the College and HACC Foundation.
The event also allowed the community to experience some of what HACC has to offer, including testimonials from students and staff and delicious cuisine prepared by the HACC culinary arts students.
Following is the list of Spirit of Philanthropy Award recipients:
Individuals
John Frisch
Kris Olewine-Milke
Organizations
Diane and John Bittle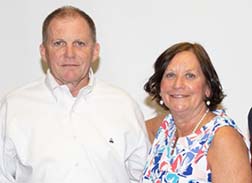 Diane Bittle started teaching at HACC, Central Pennsylvania's Community College, in fall 1990. She became a full-time faculty member in 1998. Over the course of her 28-year history with the College, she has always been deeply committed to student success. Diane and her husband, John Bittle, are passionate about helping others, particularly HACC students. 
When asked why they support HACC and the HACC Foundation, the Bittles responded: "We provide funds to the HACC Foundation because we want to help the needs of our students. We hope that by donating, a sense of "I believe in you" spirit can be conveyed to the students and encourage them to succeed."

Return to top
 
Judy Chronister
Judy Chronister created the Jennifer Jane Leader Scholarship Award Fund in January 2015. The scholarship was created in honor of Judy's niece, Jennifer Leader, who graduated from HACC with an associate degree in general studies and a certificate in human services. Judy has been inspired by Jennifer throughout her life, watching her rise above the difficulties she has encountered. The scholarship allows Judy to celebrate the diverse student population at HACC, while also honoring her beloved niece

Three years after establishing the Jennifer Jane Leader Scholarship Award Fund, Judy created the Jennifer Jane Leader Scholarship Endowment, which allows Judy's philanthropic efforts to live on in perpetuity. Countless HACC students will benefit from Judy's steadfast support of HACC and the HACC Foundation.

Return to top
 
Jeffrey Gelburd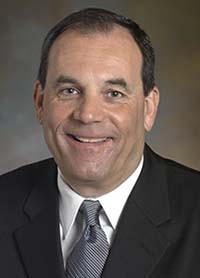 Having been raised in Toms River, NJ, Jeff has been a resident of the Harrisburg area for 40 years following his graduation from York College of Pennsylvania with a B.A. in History. He and his wife, Marcia, of 36 years have been blessed with three children, Meghan, Ryan and Andrew as well as three granddaughters, Lily, Addy and Charlotte.

For the past 30 years, Jeff has worked brokering commercial insurance after working in the treasury area at DENTSPLY International, Inc. for six years.

Jeff currently serves on the Advisory Committee of HACC's Lancaster Campus.

In the past five years, Jeff has gained a deeper appreciation of all that HACC provides young people in furthering their education while supporting the students and community in so many ways. He has enjoyed mentoring college students and individuals starting out in their careers. Jeff has gained a better appreciation of all that the HACC Foundation does to support the College and the various curriculums it offers.

Ronald and Carolyn Hankey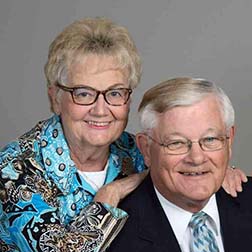 Ron is a retired chairman, president and CEO of Adams County National Bank. He received an honorary doctorate degree from HACC and served on the Gettysburg Campus Community Advisory Committee and HACC Foundation Board of Directors.

Carolyn is a retired administrative assistant in the Office of the Superintendent at the Gettysburg Area School District.
When asked why they support HACC and the HACC Foundation, the Hankeys responded: "Our support of HACC and the HACC Foundation is based on what we feel is the importance of having a HACC campus in our community to provide educational opportunities to residents of Adams County to include all ages, races, genders and income status. In response to these needs, we have established a scholarship endowment in memory of our grandson, Jacob Lee Correll."
KCA Wealth Management, LLC


 As an active member of the financial, business and estate planning community, KCA Wealth Management LLC  is always on the forefront of industry changes and innovations. KCA Wealth Management LLC  gives back to the community by assisting organizations through time and resources.
When asked the reasons why KCA Wealth Management, LLC supports HACC and the HACC Foundation, KCA Wealth Management LLC responded: " HACC is an innovator and motivator; HACC is inspirational and educational."
Gary and Eileen Laabs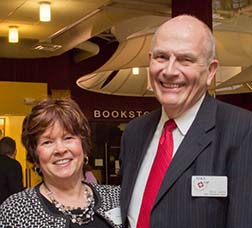 Gary Laabs, a 2008 graduate of HACC's nursing program and recipient of HACC's Distinguished Alumnus Award, and his wife, Eileen, strongly believe in giving back and providing an "on ramp to higher education." Gary serves on the HACC Foundation Board. He and Eileen have given of their time to advance and promote HACC in our community and to raise funds for HACC.
When asked why they support HACC and the HACC Foundation, the Laabs responded: "HACC helps people at any age and stage in life to reach their full potential. From career counseling all the way through an educational journey, HACC personnel are there to guide and encourage. This means that people who have had life happen and education wasn't possible, those who need new skills and those who want to choose a new profession can find direction and resources at HACC. The HACC Foundation helps students with scholarships, emergency funding when in need and resources for educational experiences, supplies and equipment. Our citizens, communities and businesses reap tremendous benefits from HACC and the funding provided by the HACC Foundation."
PSECU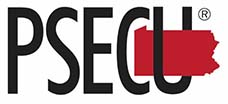 PSECU is dedicated to making a positive impact by giving back. Their vision of Pennsylvania is made stronger with a well-educated, financially savvy workforce rests with every student. The education students receive at HACC will help them secure a bright financial future. PSECU's commitment to HACC and other educational institutions has been in force for more than 17 years.
When asked why PSECU supports HACC and the HACC Foundation, PSECU responded:
"We believe that all of our communities should have access to education and be empowered to make informed and educated decisions. HACC and PSECU share a commitment to the Central
Pennsylvania community of a well-educated and financially savvy workforce and community as a whole. People helping people is not only something that we say, but something that we live by, and this is why it is important for us to support HACC and the HACC Foundation."
Athar Rafiq and Rukhsana Rahman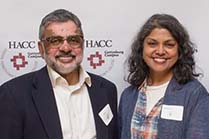 Rukhsana Rahman was born in London, England, and lived in Pakistan from age three to age 12. She came to the U.S. in 1979 to pursue further education. She is a radiologist at Gettysburg Hospital. Athar Rafiq was born in Pakistan and came to the U.S. at age 11. He works and teaches at Howard Community College in Columbia, Md., in the cyber security field.

When asked why they support HACC and HACC Foundation, here is what they said:
"It is clear to us in our family and communities that education is the only way to level the playing field for everyone. Education gives one a secure future and equalizes socioeconomic status by opening doors to opportunities that would otherwise be unavailable. Harrisburg Area Community College education has the additional benefit of preparing students for jobs that require less time and financial expense than a four year college. It is an easier way to achieve the American Dream of financial and economic freedom. Some are first generation students and maybe one car breakdown away from dropping out. They are highly motivated and just need a little support to get them through. It is the only way to level the playing field for everyone, elevating the underprivileged and equalizing the socioeconomic status for everyone. In society, educated individuals are better informed and make better judgements, contributing more to benefit the next generations. We live in a society which has its own set of spoken/unspoken rules, and one of them is education. Education helps one become an active member of the society, participate in the ongoing changes and developments and empower the future generations. Education is vital for the economic prosperity of an individual and a nation."
Bill and Susannah Rothman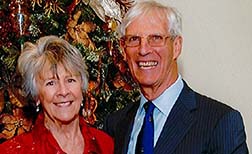 Bill is a Harrisburg native and founder of RSR Realtors. He has been active in the community and served as a board member or officer on many organizations over the past 50 years.

Sue moved to the area in her high school years. She has volunteered for many nonprofits, including the Harrisburg Symphony, Junior League and YWCA.
Bill and Sue have three children and are proud grandparents!
Donald and Barbara Schell

 Don was a member of the HACC Board of Trustees for 13 years and served as chairman for five years. In addition to serving other community organizations, Don was president of the West Shore School District Board of Directors for five years.
In addition to serving other community organizations, Barb served as board chair of Theatre Harrisburg.
Don and Barb have three children and seven grandchildren.
When asked why they support HACC and the HACC Foundation, the Schells responded: "Since we are both the first to graduate from college from our families, we know and have seen the value of a good education and what it can do for you in one's future endeavors. For those who want to get ahead in the world, an education from HACC will help you to achieve your goals and find success in moving forward. Therefore, my husband and I have supported both the College and the Foundation with our time and sponsorships!"
Jeff and Pam Shaffer

 Jeff Shaffer, a 1984 graduate of HACC and recipient of HACC's Distinguished Alumnus Award, is a real estate broker with RE/MAX of Gettysburg. Jeff is a member of the HACC Board of Trustees. Pam Shaffer is a sixth grade teacher at Arendtsville Elementary School in the Upper Adams School District, where she has been teaching for over 25 years. Jeff and Pam's daughter, Lauren, is also a teacher in the Bermudian Springs School District. Education and providing educational opportunities for others is very important to their family. 
When asked why they support HACC and the HACC Foundation, they responded: "We support HACC and the HACC Foundation because of the many opportunities the institution provides our community. Access to affordable education allows high school students and graduates an opportunity to pursue higher education and workforce development training in the community in which they live. HACC's Dual Enrollment and College in the High School programs provide an opportunity for high school students to get a jump start on college courses, lessening the financial burden to attaining a college degree."
Kenneth and Donna Shur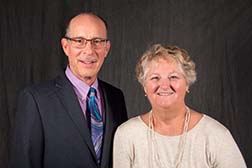 Locally born and raised, Ken and Donna Shur have deep ties to HACC though they were drawn to the school at different points in their lives. Donna began attending classes at HACC part-time. After receiving her degree in construction management in 1993, Donna transferred to Millersville University and obtained her bachelor's degree in 1997 in occupational safety and hygiene management. Donna believes in giving back to the school she loves and contributes time to HACC by reviewing scholarships.
Ken received a Bachelor of Science in Business Administration from Shippensburg University in 1975 and continued on to earn a Master in Business Administration from Shippensburg University. He completed a Master of Human Resource Management at St. Francis University. Ken spent the majority of his career as a hospital administrator, focusing on acute care. 
What has motivated the Shurs to support HACC and the HACC Foundation?As a HACC graduate, Donna remains grateful that the financial support she received from her employer made it possible for her to earn a degree, and she regrets that few companies currently provide this option. Donna adds, "We chose to provide a scholarship for HACC students, because we wanted to give others the opportunity I had."
Over the years, Ken has taught thousands of students at HACC, many of whom have shared their personal stories. "Students who miss class tell me, 'My car broke down, and I don't have money to fix it.' Or, 'I don't have money to get to class or pay my electric bill.'" Both Ken and Donna want their scholarship to provide students with tuition relief, "letting them focus on their education rather than worrying about making ends meet. We want to help in one small way."