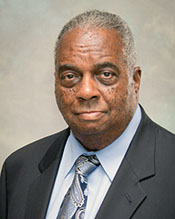 Joseph E. Alsberry
HACC Foundation Board Member

How long have you been a part of the HACC Foundation Board?
Became a member in May 2017.

Which HACC campus location do you represent?
Harrisburg Campus

How long have you lived in the area?
Over 60 years

Why did you decide to become a member of the HACC Foundation Board?
Since I have a strong belief in HACC, I always wanted to volunteer my services to HACC, so that I could help make an impact on the students, especially the needy, who may need additional funding to get them through HACC until they receive their degree. Also although I am a member of HACC Alumni Council, I still felt that I needed to move up to a decision-making Board, so that I could make more of an impact of getting those students some type of funding.

What is your professional background, including current employer and position?
Employment & Workforce Development Programs (retired executive vice president, SCPA Works)

What do you enjoy the most about being a member of the HACC Foundation Board?
I will enjoy being able to help gather funds for the Foundation that will be used for scholarships and/or other type of funds for HACC students who may need additional funds to pay  for their tuition and/or other school-related activities.

What are your hobbies and interests?
My hobbies are sports, especially tennis. My interests are mainly in volunteering for community, governmental boards and/or educational sector committees or boards.