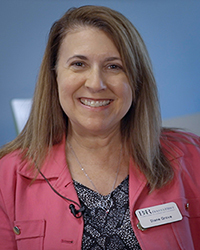 Diane Grove
HACC Foundation Board Member

What month and year did you join the HACC Foundation Board?
August 2021
Which HACC campus location do you represent?
Harrisburg
How long have you lived in the area?
1991
Why did you decide to become a member of the HACC Foundation Board?
HACC is the best kept treasure in our backyard. It serves students and citizens of every age, nationality, race, creed and economic status. I would like to educate others in our community on all the offerings and benefits of a HACC education as well as the programs and offerings available.
What is your professional background, including current employer and position?
I am the Director of Support Services with Boyer & Ritter LLC, a regional public accounting Firm. I oversee and manage the daily operations of the Support team with primary administrative duties and Firm operations.
What are your hobbies and interests?
I enjoy bike riding, hiking, photography and scrapbooking. My husband and I enjoy cooking and exploring new restaurants, breweries and distilleries. I enjoy sports of all types as well as music from all genres. I have 2 grown children and enjoy spending family time with them.