Meet Jackie: HACC Electrical Technology Alumna Who Gives Back Through Teaching
 York, PA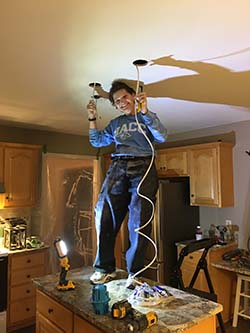 ---
"I enjoyed my time as a student at HACC so much that I wanted to give back. I was hired as an adjunct instructor in the Electrical Technology Program in 2017. Through teaching, I am able to take what I learned as a student, the knowledge and confidence that my HACC instructors instilled in me and my 15 years of experience in the construction and electrical field (prior to coming to HACC) to do right by my students and guide them. Honestly, it (teaching) is one of the best decisions I've ever made."
---
Jacqueline M. Becker (Jackie), HACC alumna and electrical occupations instructor at HACC's York Campus, credits HACC for helping her achieve her goals.
"I give thanks to every person I have met along the way at HACC who helped me to achieve my goals. I look forward to getting up on days when I teach, teaching a job that I love and making an impact on someone who was just like me…not so long ago."
Jackie started her journey at HACC in 2011 working in the Facilities Department as the groundskeeper and courier. After a few months, she decided to take some courses in the electrical field and began as a part-time student going to classes in the evenings. She earned a diploma in electrical technology in 2013, a certificate in electrical technology in 2014, an associate degree in general studies in 2015 and an associate degree in electrical technology in 2016. In 2017, she came back to teach at HACC as an adjunct instructor in the Electrical Technology Program.
"Did I mention that I came from a family of nine children, was one-of-two children who graduated high school and was the only child to pursue and graduate from college? Did I mention that I was the only female and the oldest at age 46 when I started college in 2011? You are never too old to learn. You are never the wrong gender to ever try your best, and you should never underestimate your ability to set and achieve your goals."
Explore your career options at HACC. Please contact an admissions counselor to visit a campus today!