Meet Barbara: Veteran and Future Business Owner
 Lancaster, PA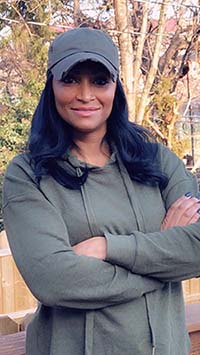 ---
"HACC has given me the confidence to further my education and work towards my goal of starting my own business."
---
When Barbara Bowman was an active-duty Marine, it was difficult to further their education, because of job duties and the demands of raising two children. After separating from the Marines, Barbara went through a divorce and became a single parent. Barbara said, "It's been a rough road raising my children, working and going to school."
The good news is that Barbara found HACC. "Starting at HACC gave me the confidence to move [forward] and pursue a dream I have," they said.
No student who comes to HACC goes through the process alone. There are qualified and helpful employees dedicated to helping students every step of the way. Barbara said, "The staff members at HACC are very approachable, helpful, knowledgeable and they have always been willing to go above and beyond to help you to succeed."
Barbara plans to graduate in 2021 with an associate degree in business. From there, they will keep pursuing the dream of opening their own business.
Explore your career options at HACC. Please contact an admissions counselor to visit a campus today!