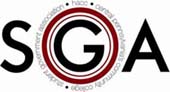 Student Government
All students are members of the Student Association.The SGA is on recess during the summer, but meetings will resume at the start of the fall 2021 semester. Please return to this page at that time for further details or email sga@hacc.edu.
What does the SGA do?
The SGA:
Provides students with a strong voice in the overall governance of HACC

Represents the entire student body

Works closely with all components of the HACC community. This includes the administration, Faculty Council and various HACC committees.

Ensures that HACC serves the interests and rights of all students
2020-2021 SGA Officers
SGA Gettysburg Campus President, Chloe Knill,

cdknill1@hacc.edu

SGA Lancaster Campus President, Makaela Moatts,

mjmoatt1@hacc.edu

SGA Harrisburg Campus President, Conrad Zimmerman,

czimme1@hacc.edu

(Spring 2021)

SGA York Campus President, Andrea Flynn,

akflynn1@hacc.edu

SGA Vice President, VACANT
SGA Treasurer, VACANT

SGA Secretary, Abagail Robillard,

afrobil1@hacc.edu
How can I get involved with SGA?
Contact your campus's SGA office if you are interested in getting involved. For questions, please email SGA@hacc.edu.