Joshua McManness
Education, 2007
"HACC's impact is enormous."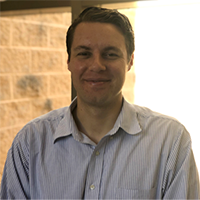 Joshua grew up in Indonesia before moving to the United States as a teenager. He found that "HACC was an affordable and accessible place for me to begin my studies; many of the traditional barriers to post-secondary enrollment were much more accessible at HACC. By and far, the best part of HACC were the relationships I formed with my peers. The student body was diverse in age, race, ethnicity, culture, and background, and this exposed me to so many different experiences and perspectives that I otherwise would not have received at a traditional 4-year institution. HACC's impact is enormous. The school actively removes challenges for students to attend, thereby providing equitable access to high-quality education."
Joshua went on to Millersville University for his bachelor's and master's degrees. He is currently enrolled in a Doctor of Educational Leadership Program with Shippensburg and Millersville universities. Joshua has also completed the Pennsylvania Association of Intermediate Units (PAIU) Aspiring Leaders Program and is a Leadership Lancaster graduate.
Joshua is the community education supervisor at the Lancaster-Lebanon IU13. He oversees operations at IU13 Community Education Refugee Center and Community School and as daytime adult ESL programming at Bright Side Opportunities Center. He is passionate about welcoming new families to Lancaster County, supporting them by providing resources and helping them navigate the school systems. Joshua's transition from Indonesia to the United States has given him a glimpse of the excitement and challenges refugees and immigrants experience as they adjust to a new environment and culture: "The incredible strength and resilience of refugee and immigrant families inspires me every day." Joshua also gives back by providing service learning opportunities to HACC learners and has collaborated with learners to collect and distribute coats to new immigrants.
In 2019, Joshua was honored with HACC's highest alumni distinction - the HACC Distinguished Alumni Award. This award salutes the achievements of outstanding alumni who exemplify the HACC "spirit" with their personal lives, professional achievements and community service and serve as an inspiration to other alumni and current learners.