Danielle Y. Hairston Green
Criminal Justice, 1993
"My academic experience at HACC was among the best experiences that I have had throughout my many years of attending higher education institutions."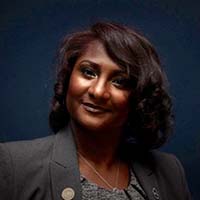 Danielle lives in Houston, Texas and works at Prairie View A&M University as program specialist for the college of agriculture cooperative extension program and professor in human science.
Her HACC journey began when her parents encouraged her to participate in HACC's dual enrollment program. They felt this would be the best option for Danielle, a teen mother. What she found was excellent programs close to home. Danielle shared that "I loved the small class sizes and the professors that were brought in from the industry to engage the students in the classrooms. I also loved the internship and professional development opportunities." In addition to her positive experience as a student, she noted that "The community regards HACC as the go to place for their professional development needs and to keep them informed about latest trends and policies related to specific areas of industry."
Danielle went on to obtain her bachelor's degree in criminal justice and her master's degree in community psychology and social change from Penn State University. She also received her Ph.D. in educational leadership and higher education administration from Prairie View A&M University. Looking back, she believes that "My academic experience at HACC was among the best experiences that I have had throughout my many years of attending higher education institutions. My experience at HACC taught me time management, altruism and collaboration. The lessons that I have learned have really been instrumental in my ability to successfully pursue my bachelor's, master's and ultimately my PH.D."
In her current role, Danielle works with state and federal nutrition specialists to develop and maximize county training programs on providing nutrition assistance. She is also the lead coordinator for the Campus Wide Wellness Initiative, co-founder of the Student Leadership Apprentice Program and co-founder of the Panther Food Center. Aside from her work, she participates in initiatives to promote wellness, breast cancer awareness, student leadership and development and workshops for senior citizens.
Danielle has been recognized by Prairie View A&M University for her commitment to service learning and community service and excellence in advising. She has also presented her work along with her colleagues on topics including Institutional Culture Impact on Leading Teams and Mentoring and Accountability, Growth and Excellence: Mentorship Through the AGEs.
If Danielle had one piece of advice for an individual trying to choose a college, it would be "to consider attending HACC. The tuition is great, the rigor in the coursework is appropriate, they are trendsetters and it is well respected throughout the country. You will get to know your professors and develop amazing relationships with classmates."