Christopher J. Pollock
General Studies, 2016
"[I] learned fascinating new things and met many great professors and instructors."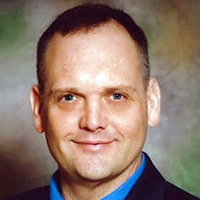 After joining the military following high school, Christopher married and began a family. He maintained, repaired, troubleshot and inspected military vehicles for the U.S. Army fleet.
In 2008, he took the first steps to pursue his dream of going to college by taking a placement test at HACC. However, this goal was put on hold when he was involved in a traumatic accident that November.
In 2009, he became 'the second person in the United States to get a double hand transplant. He's the first to receive one that includes an entire forearm and elbow.' *
In the four years that followed, he worked to regain his independence amidst physical and personal adversity. Christopher recalls "Yet, one day a flier from HACC arrived in the mail." He enrolled as a part-time student in 2011 and graduated in 2016. During his studies, he used modifications for things like note taking and completing exams.*
In addition to receiving a scholarship, the most memorable aspects of his HACC journey include "The attentive professors, instructors and the writing lab, especially, Professor Kathleen Chescattie. She was a phenomenal professor, which will go above and beyond to any student."
As a student, Christopher was a member of the Phi Theta Kappa Honor Society. In 2015, he published an article in The Science of Reconstructive Transplantation.
Christopher is currently retired from the Pennsylvania Army National Guard and the U.S. Department of Defense. He also serves as assisting minister at Good Shepherd Lutheran Church in Harrisburg, Pennsylvania. In 2017, Christopher shared his story of loss and accomplishment at the Central Pennsylvania Area Life and Legacy Celebration.
---
*Source: PennLive:
http://www.pennlive.com/midstate/index.ssf/2015/02/double_hand_transplant_transpl.html