Patty A. Bowen
Business Studies, 1998
"HACC is an educational institution for all ages and all generations. It has been part of our community since 1964 and first touched me through my aunt, Jean Hintermyer, a 1969 HACC graduate. HACC's faculty members are part of our community and the real-world work experience brought to the classroom through our adjunct faculty is exceptional."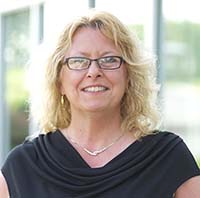 As a young teenager and only child, Patty Bowen lost both of her parents. Although she finished high school, she worked for years in dead-end jobs. She knew her parents would have wanted more for her in life, so in 1991, she registered at HACC, attending as a non-traditional student. Nearly eight years later, Bowen graduated with distinction, earning an associate degree. Since then, she completed a bachelor's degree in applied behavioral science and a master's degree in adult training and development, both from Penn State University.
While attending classes, Bowen worked her way up the corporate ladder at UPS—from a dispatch assistant to an account executive, earning an international sales growth award, to a sales training supervisor. In 2006, Bowen joined the Pennsylvania Workforce Investment Board (WIB) as director of sector initiatives. While at WIB, she was named a Marano Fellow of the Sector Skills Academy, which provides emerging leaders with experiential learning projects to improve economic opportunities for low-income individuals.
Before joining HACC as coordinator of professional development in 2011, Bowen worked as director of career services for ITT Technical Institute and sales and marketing director of Emeritus Senior Living, both in Harrisburg. She is also an adjunct faculty member of Eastern University's Campolo College of Graduate and Professional Studies. Bowen's community outreach is extensive. As a member of the Harrisburg Regional Chamber & CREDC, she has been named Diplomat of the Year, the first person to receive that recognition for three consecutive years. Bowen serves on the board of Harrisburg Business Women, volunteers for Junior Achievement of South Central Pennsylvania, is a member of the Career Partnership Development Committee of the Capital Area Intermediate Unit and the National Association of Professional Women and serves as first vice president for the Tri-County Council of the American Legion Auxiliary.
---