Scholarship Application Help for the HACC Foundation Credit Scholarship Process
Are you applying for a HACC Foundation scholarship? Below are answers to common questions about the online HACC Foundation scholarship management system.


Question: This is my first time using the online scholarship system. What should I do?
Log on to your myHACC student portal and click the "Scholarships" bar on the left side.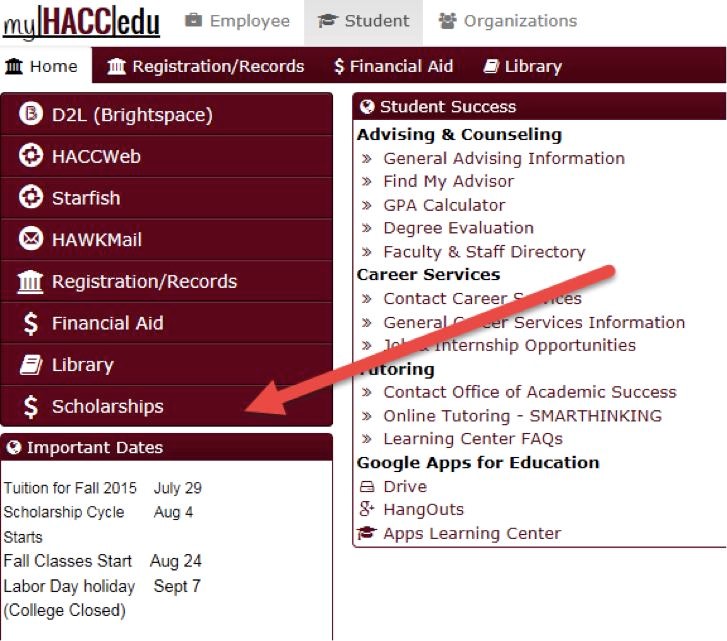 Question: I forgot my password. What should I do?
Click "Trouble Signing In?" on the sign-in page and choose "Recover Password."


Question: My account is locked. What should I do?
If you try to log in ten times unsuccessfully, the system will lock your account for one hour. Try to access your account again after one hour.


Question: How do I apply for a HACC scholarship?
Please complete your general application form and choose "Finish and Continue" to submit your application. If you would like to complete the form later, please choose "Save and Keep Editing."
When you complete your general application form, HACC automatically matches you to eligible scholarships. You do not need to do anything else to receive these scholarship offers.
HACC also will provide a list of recommended scholarship opportunities. These scholarships require additional information. This additional information can include essays or other criteria. Please click on the scholarship name to review the criteria. Students must have at least a 2.0 HACC GPA to be considered for HACC Foundation credit scholarships.
You are also welcome to use the keyword search to find additional scholarship opportunities. Please try terms such as your major or county.
 
Question: How do I know if HACC offered me a scholarship?
You will receive notification via your HAWKmail email. Please check your email account regularly for scholarship offers and next steps. Please check your spam folder frequently. All communication is via your HAWKmail only.
 
Question: Are any tips available for completing the biographical statement part of the scholarship application?
Writing a biographical statement for your scholarship application does not have to be challenging or time-consuming. Please provide details on your achievements and challenges. Please watch this brief video for tips.
 
Question: Where can I get more information?
Question: I wish to apply for Noncredit Workforce Development or private scholarships. How do I do that?
Please use the links below for more information.
For Private (non-HACC and non-HACC Foundation) scholarships