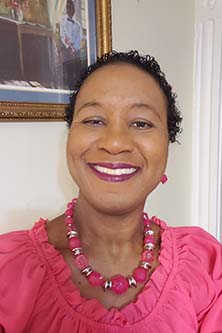 Linnie S. Carter, Ph.D., APR, Vice President of College Advancement, HACC, Central Pennsylvania's Community College

What are your title and main job responsibilities?
I am the vice president of college advancement at HACC and the executive director of the HACC Foundation. I oversee and lead the HACC Foundation and advertising, alumni affairs, branding, fundraising, grants, graphic design, marketing, photography, public relations, publications, scholarships, special events, sponsorships, videography and website development.


What inspires you to come to work every day, and why?
I am a dreammaker. I work with my team and donors to make our students' dreams come true. That reality inspires me to come to work every day.


How do you interact with and engage students and excite them about attending HACC and learning?
I love our students and, for example, will talk with them while walking on our campuses and ask their thoughts while in line purchasing food. I have worked with the HACC African American Student Association (AASA) and enjoyed every minute of it. Specifically, I conducted a marathon résumé review, presented portfolio tips to AASA members and served as a panelist in a session hosted by AASA for Black History Month. In addition, I was a guest speaker of a communications class and took great delight in discussing my profession with our students. Also, I was the keynote speaker for a Phi Theta Kappa honor induction ceremony.


What is one of your best moments as an employee at HACC?
One of my best moments was when my team and I successfully managed several crisis communication plans. We did so openly, honestly, ethically and without losing support from our stakeholders. I believe the greatest tests in life come during the tough times. With this particular test, the Office of College Advancement team passed with flying colors.


What do you see as your greatest personal achievement?
I am a first-generation college graduate. Therefore, my greatest personal achievement was when I earned my Ph.D.


What energizes you the most and why?
Our mission, our students, the Office of College Advancement team, Dr. Ski (the College president), our donors and my professions energize me the most, because they give me joy and remind me of my life's purpose.


If you could solve one community or national problem, what might that be?
I would eradicate racism.


As you look to the future, what matters most to you?
What matters most to me are my marriage to my husband; my mental, emotional, spiritual and physical health; professional fulfillment; access to higher education for all who desire it; equality for people from all walks of life; and my character.


How do you enjoy spending free time?
In my free time, I spend quality time with my husband; engage with my family and friends via social media; read books (Eric Jerome Dickey and Danielle Steel are among my favorite authors); and watch crime shows (including Law and Order, NCIS, CSI and Criminal Minds).


Who's your biggest hero, and why?
My mom is my biggest hero, because she spent her life savings to put me through college for my first degree. Also, she has achieved many firsts. She was the first African-American and female public bus driver in Norfolk, Va. She was also the first female heavy equipment mobile mechanic at the Norfolk Naval Base in Virginia.


What educational degree(s) have you obtained?   
I earned a Ph.D.in community college leadership in 2009 from Old Dominion University in Norfolk, Va. I also earned a master's degree in mass communications (media management) in 1998 and a bachelor's degree in mass communications (public relations) in 1992, both from Virginia Commonwealth University. In addition, I earned the Accredited in Public Relations (APR) designation in 2000 from the Public Relations Society of America (PRSA).