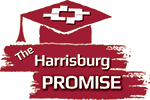 The Harrisburg Promise program will recruit seventh grade students from Hall Manor, Hillside Village, Hoverter Homes, MW Smith Homes, William Howard Day Homes and neighborhoods in the Steelton-Highspire School District and follow them through high school and post-secondary education at HACC.
Student Requirements
Students must maintain a GPA of 2.5 or higher while in the program and provide proof with report cards. In addition:
Drug, alcohol and tobacco use will not be tolerated.
Students of all races and socioeconomic levels will be welcome to participate as long as they meet program requirements.
Activities
An end-of-summer picnic at HACC to set goals and expectations for the academic year
Monthly visits to HACC's Harrisburg Campus for a series of planned events, ranging from career exploration to financial literacy
An annual visit to a company to see the real world first hand and increase the students' career options
Calendar of Events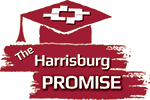 Harrisburg Promise 2018-19 Workshop Schedule
| | |
| --- | --- |
| Workshop Schedule: 4:30-5:30pm | Theme |
| Wed. 10/10/18* | SMART Goal Setting and College & Career Pathway Development |
| Wed. 11/7/18* | Business & Industry Career Exploration Fair |
| Wed. 12/5/18* | Life & Student Skills for Success  |
| Wed. 1/16/19* | Diversity & Inclusivity |
| Wed. 2/20/19* | Financial Literacy |
| Wed. 3/20/19* | HACC Club Fair & Interactive Campus Tours |
| Wed. 4/17/19* | Community Service Project |
| Wed. 5/15/19* | End of the Year Celebration: Geospatial/Mapping Activity |
| *3:15-4:15pm: Tutoring/Mentoring | Study Skills, Language Arts & Math Tutoring |
If you have any questions or need additional information, please let us know. Thank you!