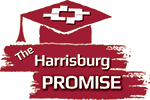 Harrisburg Promise students participate in college-preparedness workshops and mentoring. The monthly workshops are opportunities for students to learn about topics that will prepare them for college life after high school. In addition, the students are paired with mentors to discuss their current academic situations and how this program will help them prepare for postsecondary education.
We need volunteers in order to offer exceptional mentoring and workshop opportunities.
By volunteering, YOU are helping to create a positive and productive learning environment for the students. All volunteers will be required to have a background check and child abuse clearance.