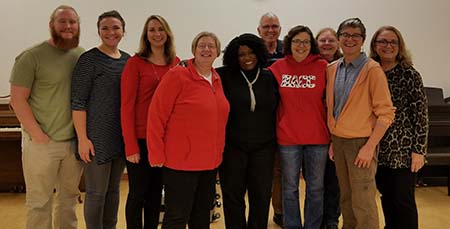 HACC is not exempt from the racial problems that are plaguing many of our sister institutions of higher education. According to the Pew Research Center (2019), race relations continue to be a significant contributor to the social divide in America, with approximately 70% saying that race relations in this country are getting worse.
To ensure HACC remains a welcoming and safe academic environment for students and employees, the College offered two three-day racial consciousness workshops to deconstruct the notion of racial supremacy in the United States. The Veridical, designed to raise the racial consciousness of those who identify as White or Caucasian, occurred Oct. 12-14, 2018. The following week, The Awakening, designed to raise the racial consciousness of those individuals who identify as Black or African-American, was held on Oct. 19-21.
Each attendee of these weekend-long workshops saw the dialogue enhance their self-identity and shed light on some of their long-held beliefs, biases and roles in transforming society. The passion of these individuals has not dimmed after the workshops. They have been vocal advocates, and participants remain engaged with activities that push the College toward a more inclusive culture. Because of the generous funding from the HACC Foundation, this initiative has the potential to change the course of HACC for generations to come.
The outcomes of the Veridical and Awakening have been realized through the work of the campus-based diversity committees, sponsored programs and review of policies and procedures through a lens of true equity. Students are positively impacted by these changes, experiencing an easier journey to success with fewer barriers for diversity and inclusion. Whether ensuring that majority and minority students can access the educational opportunities at HACC or holding accountable those who seek to derail their individual success, students can attain an education credential that is grounded in academic excellence AND inclusive excellence.
These workshops are one example of the HACC offers to ensure our diverse student and employee populations feel valued at HACC – no matter their ages, ancestries, colors, disabilities, gender identities, marital statuses, national origins, places of birth, political affiliations or beliefs, races, religions, sexual orientations and veteran statuses.