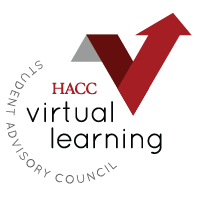 Who We Are...
The VLSAC is the student voice and virtual student government comprised of registered HACC online students that endeavor to be a group of students who consistently come together in an online meeting space to discuss and champion the wants, needs and goals of the online student body. We work to improve the online educational environment for all virtual learners at HACC through planning community building activities, advising on the use of student activity funds, representing virtual students in shared governance decisions, and partnering with administration and faculty to plan and implement initiatives designed to improve the virtual student experience. 
Why Should I Join the VLSAC?
Being a virtual learning student does not mean you are a faceless member of the student body... We want to meet you! We are a team committed to service and excellence. All the projects and initiatives we work on are aimed to benefit our peers and improve student life for the online student community. We want to be an online community of supportive and creative individuals. Get involved with opportunities to build leadership, communication, engagement, business, marketing, and technology skills. Whether you want to apply for a seat on the Executive Council or volunteer to help as a General Council member- there are various ways to participate with the VLSAC.

How Can I Get Involved? 
Join the VLSAC General Council Meetings to learn about contests and events we have planned for the semester. We'll provide updates on current initiatives, discuss and vote on pending ones, and ask YOU to help us consider new ways to support students. Together we will work to improve the virtual student experience.
When and How Do We Meet...
For fall 2017, online VLSAC General Council meetings will be held on the following Tuesdays at 7pm. Join using the Zoom link: https://hacc.zoom.us/j/196707505.
September 5
September 19
October 3
October 17
November 7
November 21
December 5
Students may also stay connected through the VLSAC Facebook page and Brightspace by D2L.

Contact Information
If you are interested in joining in on the VLSAC efforts or have questions and suggestions, contact the VLSAC at vlsac@hacc.edu. 

VLSAC Initiatives
The VLSAC has developed several initiatives for online students. View the program(s) provided below:
For details on other initiatives view the 2016-2017 Accomplishment Report.
Meet Your Student Representatives
Get to know our VLSAC EC members.
Mission Statement of the Virtual Learning Student Advisory Council (VLSAC)
The VLSAC is comprised of students who work to improve the online educational experience for all virtual learners, represent all students from HACC's Virtual Learning organization and champion their collective interests. The organization's goals are accomplished through frequent communication, community building activities, advising on student activity fee allocation, cooperative implementation of initiatives designed to improve online learning, and giving virtual students a voice in governing decisions of the college.