Welcome to the Lebanon SGA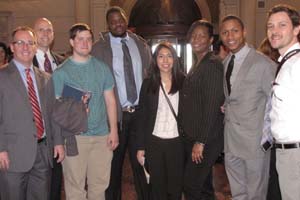 SGA Lebanon Campus
Learn about the SGA at Lebanon Campus.
When and where are meetings?

Mondays at 3:30 p.m. in room 214.
Check campus boards for any changes.
What does the SGA do?
Your Student Activity Fee goes directly to the SGA. The SGA:
Develops programming

Supports initiatives throughout the college

Funds various clubs

Advocates on behalf of the student body
The SGA has:
Renamed the Student Lounge to the Hawk's Peak

Purchased the TVs and video game systems in Hawk's Peak

Purchased three water fountains to fill reusable water bottles with filtered water

Coordinated many campus events to benefit the students of HACC Lebanon
How can I get involved?
The SGA currently has vacant senator and officer positions. If you are interested, contact the SGA at 717-270-6321 or blskaf@hacc.edu. All students are welcome to attend SGA meetings and participate in events.
Contact Information
Student Government Association
HACC Lebanon Campus
735 Cumberland Street
Lebanon, PA 17042
717-270-6321
blskaf@hacc.edu