Rose Lehrman Arts Center Directions/Parking Map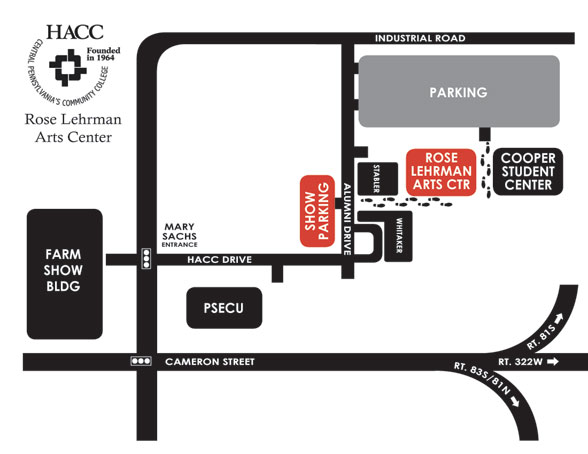 LOCATION:
The Rose Lehrman Arts Center is located off Rt. 81 on the Harrisburg campus of Harrisburg Area Community College (HACC).

DIRECTIONS TO THE ROSE LEHRMAN ARTS CENTER:

The Rose Lehrman Arts Center is located on the Harrisburg Campus of HACC off Interstate 81 at exit 67A (Cameron Street). At the first light after the exit ramp, turn right. Turn right at the next light at Gate 1 onto HACC Drive. Turn left onto Alumni Drive and park in the South Parking Lot at the left. Gates are raised prior to performance time.

The RLAC is the second building on the left on the main campus walkway directly across from the South Parking Lot. The main entrance/lobby is located at the front porch. (Look for the Rose Lehrman flags across from the gazebo.)

If you get lost, call the Box Office at 231-ROSE (7673).

PARKING:

Parking is FREE for all RLAC events. All parking is recommended in the Staff, Visitor and Event Parking Lot. Handicap Parking is also available within this parking lot.