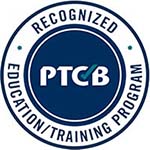 Pharmacy Technician
Learn about our Pharmacy Technician Non-credit Certificate program at Harrisburg, Lebanon, and Lancaster Campuses AND ONLINE. Our program prepares students to take the national certification examination administered by the Pharmacy Technician Certification Board (PTCB). 

Classes may also be taken fully online.  More information about our online program can be found here.
What does a pharmacy technician do?
A pharmacy technician performs various duties under direct supervision of a pharmacist. You may:
Accept and screen medication orders, preparing labels and medications
Maintain drug inventory
Perform insurance billing
Prepare admixtures and compounding medications
Maintain patient records
How do I enroll in the program?
For more information or if you have questions, you can email Healthcare Education staff at nchealth@hacc.edu.  Please place the program name in the subject line.  To register contact the Welcome Center at 717-780-2414.

Can I receive veterans education benefits for this program?
The Department of Veterans Affairs (VA) determines benefits.
The VA approves veterans' education benefits for non-credit healthcare programs. These programs must result in a certificate upon completion.
The VA bases benefits on the length of the class and the number of weekly clock hours.
The VA provides benefits on a post-payment basis. You must pay tuition in advance.
Contact:
 

Military and Veterans Affairs Office - Harrisburg Campus
vaoffice@hacc.edu
717-780-2331
Cooper 206
Where can I work?
Pharmacy technicians work in a variety of settings. These include:
Hospital pharmacies
Retail pharmacies
Extended-care facilities
Home health agencies
Mail-order pharmacy distributors
HACC does not offer assistance in job placement for this program.
What are the program goals?
This curriculum is designed to prepare students to:
Understand the compounding and dispensing of pharmaceutical preparations
Understand the preparation of admixtures
Participate in quality control processes
Perform insurance billing Maintain drug inventory quality and levels
Where can I get more information?
Who can I contact for more information or to enroll? 
For more information or if you have questions, you can email Healthcare Education staff at nchealth@hacc.edu or contact the Welcome Center at