Rebecca Shoener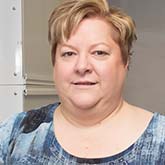 Rebecca Shoener is the Program Director for the Radiologic Technology and Radiology Informatics Programs at HACC, Central Pennsylvania's Community College. As program director she is responsible for the accreditation of the radiologic technology program through the Joint Review Committee on Education in Radiologic Technology and also serves as an apprentice site visitor for the committee. She has been a radiologic technologist for 26 years and an educator in the field for 15 years. She leverages her expertise in instructional technology and education to develop innovative learning experiences and has built a Radiologic Science Program that is highly recognized by the industry. In addition to her degree in radiologic science, she has earned two master's degrees. One in instructional technology form Bloomsburg University in Bloomsburg, Pennsylvania, and one in education form Armstrong University in Savannah, Georgia. She the author of a pocket guide of radiographic procedures called Rad Notes published by F.A Davis.
Background
Degrees: Master of Science in Instructional Technology, Master of Education in Middle Grade Education., Bachalor of General Studies, Associates of Science in Radiologic Technology
Year Started: 2004
Title: Program Director Radiologic Technology and Radiology Informatics
Professional Experience: Radiologic Technologist since 1990 Middle Grades Educator 1999-2001 Radiologic Science Educator since 2001 (clinical instructor 2001-2004, clinical coordinator 2004-2011, program director since 2012)
Area of expertise: Health Care, Industry Experts
Notable research and publications: Rad notes: A pocket guide to radiographic procedures. Philadelphia, PA: F.A. Davis.