Megan Hoose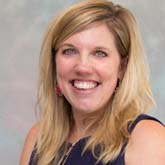 Megan Hoose is the integrated marketing communications coordinator for student recruitment at HACC, Central Pennsylvania's Community College. She leads the strategic planning between HACC's integrated marketing communications firm and the College for student recruitment campaigns, as well as develops, executes and assesses the year-long integrated marketing communications plan for student recruitment. She's served as an integral part in the double-digit increase in the number of applications for admissions over the last year. She also led the College's first social media campaign to award $10,000 to 10 HACC students. Hoose has more than 11 years of marketing, advertising and public relations experience in the nonprofit, education and agency settings, and she earned a bachelor's degree in speech communication from Kutztown University.
Background
Degrees: Bachelor of Arts in Speech Communications
Year Started: 2013
Title: Integrated Marketing Communications Coordinator for Student Recruitment
Professional Experience: Megan's worked for integrated marketing communications firms as well as a publishing firm and HACC providing expertise in event planning, community outreach, communications, marketing, social media and public relations. She's presented at conferences for non-profits as well as the National Council for Marketing and Public Relations.
Area of expertise: Advertising, Marketing, Public Relations, Communication
Loading ...