Amanda (Kopp) Ruiz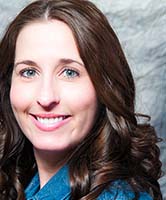 Amanda is a Licensed Professional Counselor, working in the mental health field as an outpatient therapist for the past 8 years. Additionally, she is an Adjunct Professor at HACC, and has taught at the Lebanon and Lancaster campuses. She serves as a supervisor for those seeking LPC licensure in the state of Pennsylvania.
Background
Degrees: M.S. in Clinical Psychology
Year Started: 2012
Title: M.S., LPC
Professional Experience: Adjunct Professor of Psychology at HACC; Outpatient Mental Heath Therapist; LPC Supervisor
Area of expertise: Disabilities, Ethnic/Diversity Issues, Family/Domestic Issues, Interpersonal Relationships, Mental Health, Psychology, Psycho-Social Issues, Women's and Gender Issues
Notable research and publications: Strachan, G.D., Kopp, A.S, Koike, M.A., Morgan, K.L., and Jordan-Sciutto, K.L. Chemokine- and neurotrophic factor-induced changes in E2F1 localization and phosphorylation of the retinoblastoma susceptibility gene product (pRb) occur by distinct mechanisms in murine cortical cultures. Experimental Neurology, 193, 455-468.
Loading ...