Christina Kelley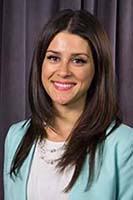 What are your title and main job responsibilities?
As development officer for alumni relations at HACC, Central Pennsylvania's Community College, I proudly serve alumni through continued communication and programming, and work to support HACC students by helping to raise funds for the HACC Foundation.


What inspires you to come to work every day, and why?
Every day, I am inspired to come to work knowing that I am contributing to HACC's mission to 'create opportunities and transform lives to shape the future – together.' HACC is a special place for students, alumni and our community, and I am honored to be part of the team!

How do you interact with and engage students and excite them about attending HACC and learning?
I share stories that so many alumni have shared with me. HACC is an ideal choice to obtain a quality education at an affordable price. Whether students are not sure what they want to do, or know just want they want but are managing several other responsibilities, I try to encourage them with alumni success stories, because they, too, can do it.


What is one of your best moments as an employee at HACC?
One of my best moments as a HACC employee has been attending Commencement twice each year. It is so rewarding to be part of the celebration of our students' successes, hear their stories and see their excitement.


What do you see as your greatest personal achievement?
My greatest personal achievement was arranging for my mother, brother and husband to return to my mother's childhood home in rural Vietnam. It was truly a moment in which our family story came full circle.


What energizes you the most and why?
I am energized by the ability we each have to help others. Whether it is helping a student afford their education or smiling at a stranger, we can each have an incredible impact.


If you could solve one community or national problem, what might that be?
If I could solve one problem, it would be poverty. We all have a right to the pursuit of happiness.


As you look to the future, what matters most to you?
As I look to the future, I am hopeful for greater peace and understanding between countries and cultures around the world. In the end, most people have the same basic needs and hopes for their lives.


How do you enjoy spending free time?
In my free time, I enjoy spending time with family, traveling and listening to podcasts.


Who's your biggest hero, and why?
My biggest hero is the Dalai Lama. He puts compassion first, even in the face of extreme adversity.


What educational degree(s) have you obtained?
I obtained my bachelor's degree in communications from Shippensburg University.