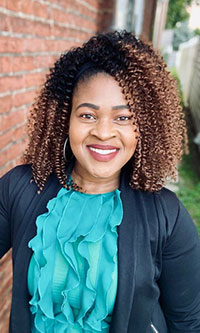 Desovia Musson

What are your title and main job responsibilities?
I am the executive director of project management and administrative services. I lead a team of administrative office supporters who manage projects for the other departments in the Office of College Advancement.

What inspires you to come to work every day, and why?
Hands down, our students inspire me to show up every day. When I hear their stories, attend Commencement ceremonies or read their thank-you letters when they receive scholarships or tuition giveaways, it motivates me to work hard for them. They're worth it!

How do you interact with and engage students and excite them about attending HACC and learning?
I normally interact with students when I assist them with tuition giveaways. The HACC Foundation is so generous with our students and is intentional about providing additional financial support. Our students are the absolute best when it comes to gratitude. When they receive assistance that helps them to move past their financial struggles, it always excites them about continuing their educational journey.

What is one of your best moments as an employee at HACC?
One of the best moments as an employee at HACC has been gaining the executive director position. It was my best professional accomplishment to date. It's so rewarding to have your leader recognize not only your hard work but also your dedication and potential. Meeting Linnie Carter is probably one of my best moments as an employee also. LOL!

What do you see as your greatest personal achievement?
My greatest personal achievement is birthing my daughter and adopting my son. They are my greatest achievement and my daily motivation to keep going.

What energizes you the most and why?
The future energizes me. One of my favorite words is opportunity, and the future for me means access to even more opportunities. I find these possibilities to be both exciting and encouraging.

If you could solve one community or national problem, what might that be?
I would eliminate racism and the damage it has caused for centuries.

As you look to the future, what matters most to you?
What matters most to me is to remain ethical, dependable, empathic, teachable and flexible.

How do you enjoy spending free time?
I enjoy watching Korean dramas, Matlock and Cocomelon (Don't judge!). I sing and write songs.

Who's your biggest hero, and why?
My biggest hero is my sister. She has Sickle Cell Anemia and is the strongest person I know. I don't know how she is able to navigate the struggles of living with a chronic illness and is still a successful architect, mother, wife, daughter and friend. She is incredible.

What educational degree(s) have you obtained?
I earned an associate degree in biblical studies and a bachelor's degree in religious studies from National Bible College in Maryland.