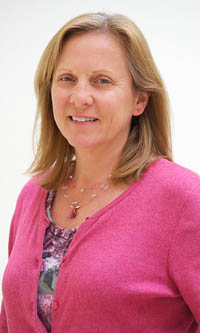 Theresa Richwine

What are your title and main job responsibilities?
Executive Director of Website Resources
I manage HACC's public-facing website, www.hacc.edu, as well as several internal and external software applications. 


What inspires you to come to work every day, and why?
HACC is special because it gave me a second chance and every day I come to work I help others get their second chance - no matter where they are in life. It doesn't matter if they never took their SATs, if it's been 10 or even 20 years since they've been in high school or even if they graduated high school at all. HACC provides everyone the stepping stone they need to get a higher education and to keep on going if they choose to do so.


How do you interact with and engage students and excite them about attending HACC and learning?
When I talk to students - particularly web students - and they find out I not only work here but was one of the first graduates of the web development program they see how valuable a HACC degree can be as well as how much value HACC puts into it's own graduates.


What is one of your best moments as an employee at HACC?
Getting hired! I felt like I finally made my way back home.


What do you see as your greatest personal achievement?
Obtaining my masters degree.


What energizes you the most and why?
Speaking with both new and current students about the website or conducting one-on-one task based usability analysis on the website. I love hearing the student's comments and actually watching them navigate the website and look for information. It's really fascinating to see how they think and interpret the information on the site.


If you could solve one community or national problem, what might that be?
Provide the resources so that all children could have a safe, comfortable home environment.


As you look to the future, what matters most to you?
Keeping www.hacc.edu up-to-date with the latest technology and having the resources to do so.


How do you enjoy spending free time?
Spending time with family and friends - on a warm summer day on our deck if I could choose! I like being in the kitchen and find cooking and baking relaxing. I enjoy being with my 3 old men - my 2 grumpy old horses and my husband, lol! 


Who's your biggest hero, and why?
Dot Robinson is the first that always comes to mind. She was racing motorcycles back in the day when roads were dirt and the men refused to let her race - but she did anyway and usually won! These were races that lasted for days across hundreds of miles, and at the end of each day she would put on a fancy dress and be the proper lady. She was one of the founding members of today's Motor Maids, one of the oldest motorcycles clubs in America and rode her own motorcycle into her 80s.


What educational degree(s) have you obtained?
I have two associates from HACC: one in web development and a general studies transfer degree, as well as a bachelors in web development from Franklin University and a masters in user experience design from Kent State University.