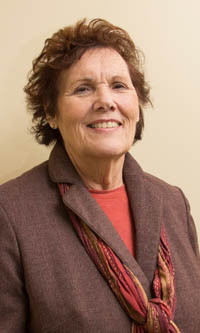 M. Pamilla Saylor

What are your title and main job responsibilities?
Integrated Marketing Communications (IMC) coordinator in the Office of College Advancement. My main responsibilities are media relations and special projects.


What inspires you to come to work every day, and why?
HACC's mission of improving the lives of our students through educational and other opportunities inspires me to come to work every day. I love hearing about their journeys and am constantly amazed at what they are able to accomplish despite the many roadblocks they face along the way. I also appreciate the various ages, backgrounds and goals that our students have. It is very rewarding to know that I am part of an organization that is focused on helping others achieve their dreams. I am fortunate to be a member of a high-performing, dedicated team that shares this philosophy.


How do you interact with and engage students and excite them about attending HACC and learning?
A lot of my assigned responsibilities are behind the scenes - interacting with the media and College colleagues on materials for student recruitment and retention rather than directly with students. However, recently the IMC team gave presentations to two separate entry-level communications classes with positive feedback from students. It was a great experience and one that I hope we get to repeat next semester. I get asked about HACC whenever I am in the community and people see my name tag. I encourage them to find out about HACC and offer whatever assistance I can.

I make a point of greeting students that I pass on the way in or from work and ask how their day is going. If they want to talk, I'll stop for a few minutes to share their thoughts. At the Lancaster Campus, I frequently was stopped by students in the hallway with questions and enjoyed helping them.


What is one of your best moments as an employee at HACC?
There are many best moments for me as an employee.

A recent one was when a group of students wanted to see an administrator about an issue with a professor. They stopped me in the hall for directions, and I took them into the administrative bay. When the administrative assistant started giving them the brush off, I was able to speak directly to the campus vice president to make him aware of the situation. He subsequently spoke to the students, with additional meetings scheduled to work out their concerns.

I was happy that the students were treated with respect by the vice president, especially after they initially were not getting a positive response from a front-line employee.


What do you see as your greatest personal achievement?
Although I have been at HACC for 7.5 years, I've been part of the rocking OCA unit since Dr. Linnie Carter's arrival in March 2012. My greatest personal achievement at HACC is being hired by Dr. Linnie Carter. I am proud to have had the opportunity to go through the rigorous process and come out a winner in July 2013.


What energizes you the most and why?
I am energized the most by being valued, appreciated and empowered to do my job by Dr. Carter and Dr. Ski.


If you could solve one community or national problem, what might that be?
I'd erase racism on any level. I agree with Toni Morrison that it's about the human race -- and racism is a way of thinking devised by those who feel threatened by anyone who isn't exactly like they are.

We all are human beings. It doesn't matter what the color of our skin is, our sexual orientation, our personal beliefs as long as there is tolerance and acceptance of others.

I think this country needs to address the issue of racism and get over it. (Though I am not naive enough to believe it is that simple.) The vast majority of Americans are not natives - most of us are here because someone on our family tree came here centuries ago.


As you look to the future, what matters most to you?
My health and the ability to be an active, contributing member of the HACC community as well as to my family and the community in which I live.


How do you enjoy spending free time?
I love to read, do crossword puzzles, spend time with my grandchildren and walk.


Who's your biggest hero, and why?
My biggest hero(s) are women who have stood their ground, overcome obstacles to achieve their goals, speak out against injustice toward others and are mentors in their profession as well as their lives. I am fortunate to have had strong women in my life and hope that I, too, am an example of a strong woman for my sons, my grandchildren and my colleagues.


What educational degree(s) have you obtained?
I have a bachelor's of science degree in journalism from the University of Tennessee, Knoxville.