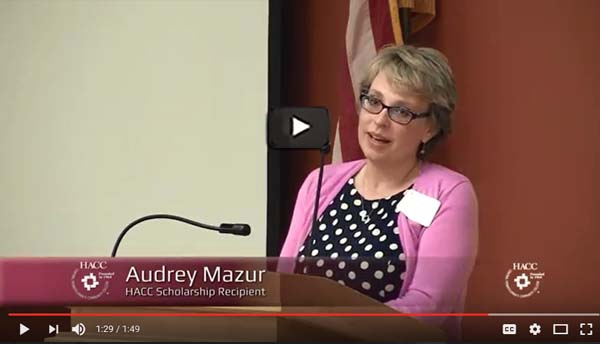 HACC is special because our alumni, friends, faculty and staff, students and parents are so passionate about making Central Pennsylvania a better place. They generously give back to the College for many reasons. The stories behind each gift reveal the grit, gratitude and optimism that define our HACC community.
In a recent survey of HACC Foundation donors, supporting our students was the number one reason for giving. Nearly 70 percent of respondents said they contribute to scholarships for students' tuition and books.
"My son was a student at HACC. He died in a car accident during a time when he was working to get his college career on track. He had a positive experience with an instructor and was making gains as a non-traditional student working a full-time job," said a donor. The scholarship we established in his memory is to help students in similar situations."
Donors also give out of gratitude. In the survey, nearly 40 percent of respondents said they contribute to the HACC Foundation because... "I have personally benefitted from it and give out of loyalty."
"Were it not for the financial assistance I received in school, I could not have enjoyed the life I have had for many years," commented another donor. "Thus I view helping others as they work hard to attain a degree as a very important way to say 'thank you!'"
In Central Pennsylvania, many businesses and other organization contribute to HACC because the College educates the next generation of workers and citizens of the region. HACC is vital to future economic development.
"We realize the importance of developing the next wave of leaders. HACC is a school that appeals to the community as it provides education that not only prepares, but also retrains," responded another donor. "When someone is well prepared, they make a positive impact with their efforts - at work, at home and in the community."