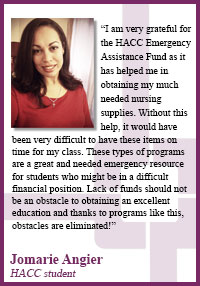 The Emergency Assistance Fund is available to assist students facing a financial emergency and unexpected financial burdens, excluding tuition-related expenses.          
The fund assists students enrolled at HACC who could be forced to delay or leave their education if they do not receive extraordinary financial help.
Separate emergency assistance funds have been established for the Gettysburg, Harrisburg, Lancaster, Lebanon and York campuses
as well as Virtual Learning.
 

"I am excited to know that I can go to my school for help and guidance when I am in times of need. The help I am receiving from HACC will relieve a true burden from my shoulders and allow me to focus on my studies for the last three months of school without the extra stress. I appreciate everything that has been done for me and also for the consideration. I want you to know that your help has changed my life and will continue to do so for many others. I am greatly appreciative and proud to be student at HACC." - HACC student

 

"I am writing to thank you for selecting me as an approved recipient of emergency assistance funds. I cannot even express how much relief your decision has brought. With these funds, I can focus on my studies and the semester starting. I will not have to worry about outside financial hardships, such as having an unsafe vehicle." - HACC student   

 

"I wanted to take this time to say thank you so much for your help with my daycare bill... I know that I will always have family and friends at HACC. Thank you again from the bottom of my heart for your assistance." - HACC student