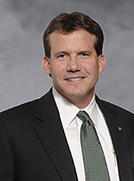 Greg King, recipient of an honorary doctor of public service degree from HACC, is a senior director with D&H Distributing in Harrisburg. King is currently the vice chair of the HACC Foundation Board and served as HACC Foundation Board chairman from 2005-11.
King's strong support of HACC is a family legacy. His father, the late William J. King, was an inaugural member of the HACC Foundation Board. Signifying his commitment to his father's belief in the importance of accessible and affordable higher education, King, along with his mother, Jean, endowed the William J. and Jean D. King Scholarship to provide continued assistance to deserving students in the elder King's memory.
Beyond HACC and his professional business and industry associations, King also serves the community in other ways, most notably with the Harrisburg East Shore YMCA, where he was chair of the Board of Directors, and with the Central Dauphin Area Basketball Association, where he serves on the Board of Directors and volunteers as a team coach.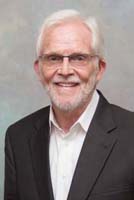 Professor Emeritus of English Trum Simmons began teaching at HACC in 1971, and during his 40-plus years he taught courses in English composition, literature, communications and the humanities. He also created the courses Women Writers, Banned Books and Introduction to LGBT Studies. He advised the student newspaper, The Fourth Estate, for 40 years and the student- led LGBT Allies organization for 15. He was director of the honors program 1993-96 and president of the Faculty Organization 1982-83 and 1997-99. He was a regular columnist for Harrisburg Magazine 1995- 2005 and now writes for Central Voice. In 2004, he received the NISOD teaching excellence award and, in 2005, he was inducted into the College Media Association (CMA) Hall of Fame for his longtime service to the organization. Trum retired as senior professor of English in 2012 and continues to teach the LGBT studies course on multiple campuses. He also serves on the board of directors of the LGBT Community Center of Central PA.
See why Trum believes it is vital to Invest, Impact and Inspire!