Fund for Excellence for Arts Programming
About the Fund
"Visiting artists provide students and faculty with additional creative points of view, design and technique principles, and their wisdom and experience as established art, photography and graphic design professionals in many inventive disciplines. Their visits broaden horizons professionally and culturally." - Margaret C. Brandt, M.F.A, Visual Arts Instructor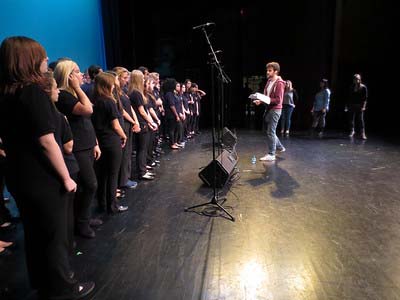 HACC, Central Pennsylvania's Community College, recognizes the importance of a strong arts presence and remains committed to offering robust fine arts programs to students and our community. The presence of creative arts in academic offerings, as supplemental instructional opportunities and within gallery spaces, has positive benefits on student learning and strengthens the artistic culture of the community.
Impact
The Fund for Excellence for Arts Programming provides the dollars needed to support initiatives offering high-quality visual and fine arts learning experiences to students. Also, the fund encourages the understanding and appreciation of contemporary art by offering diverse, high-quality exhibitions, lectures, performances, workshops and innovative initiatives and experiences for students. Initiatives include:
Essential and Specialized Equipment – It is essential that we continue purchasing and maintaining arts instructional resources and equipment for these programs. Funds would allow us to purchase specialized equipment such as modern, energy-efficient annealing kilns for glass cooling and cutting-edge theatre lighting systems to provide students with contemporary lighting design experiences.
Studio Arts Activities - You can support curricular and instructional activities for students enrolled in studio art or performing arts classes, such as theatre, music or fine arts. These activities include distinguished guest lectures and workshops where students can learn from and network with experts in the field or fieldtrips where students can study exhibitions outside of HACC. Past lecturers have included voice-over artists, professional puppeteers, choreographers and nationally-reputed graphic designers.
Theatre Performance Series – HACC can provide outstanding curricular and performance-related experiences for HACC students. Programs may need materials to support theatre performances; purchase materials and supplies for lectures and workshops by theatre professionals; and host elementary and secondary students' attendance at HACC's Theatre for Young People productions.
Rose Lehrman Gallery Artist Series – HACC's Rose Lehrman Gallery houses exhibits and guest lectures and workshops by gallery featured artists. Students enrolled in humanities, writing, art, art history, graphic design and photography use the gallery space as an extension of the classroom. The 1,000-square-foot art gallery on the Harrisburg Campus is a teaching gallery hosting exhibitions of work by nationally recognized artists.